Activities
Afghan journalists speak out against impunity
07 Nov, 2014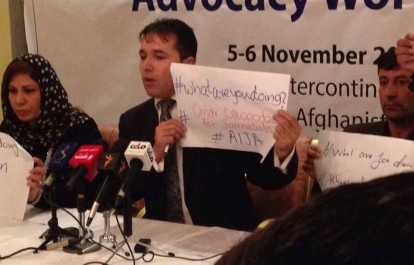 Seven media workers have lost their lives in Afghanistan this year – many as a result in a spike of violence leading up to the April election.
In 2014, it is one of the world's most dangerous places for media workers.
On January 23, the body of Noor Ahmad Noori, a Busd Radio journalist and former New York Times employee was found in the Karte Lagan area of Helmand. He had been kidnapped and hanged.
On March 11, Swedish broadcast journalist, Nils Horner was assassinated in broad daylight in Kabul.
The same month, Sardar Ahmad, a 40-year-old senior reporter with the Agence France-Presse (AFP) Kabul bureau, was shot dead along with his wife and two of their three children as they sat to eat their a meal at the Serena Hotel in Kabul. The Taliban claimed responsibility for the brutal crime. Their youngest son, two-year-old Abu Zar Ahmad, was the only survivor.
In another brutal assault, internationally acclaimed AP photojournalist Anja Neidringhaus was shot and killed by an an Afghan police officer in Khost province on April 4. Her colleague and friend, reporter Kathy Gannon was badly injured in the attack but has since vowed to return to Afghanistan.
The Afghanistan Independent Journalist Association (AIJA) said: "These are blatant violations of the security of independent journalists in Afghanistan. We believe that the government has not been able to bring offenders and criminals to justice in the past. Therefore, we see a repeat of such heinous crimes all over the country."
This week, Afghani journalists stood together to condemn the climate of impunity in their country and to call for justice.
Written By

IFJ Asia-Pacific
The IFJ represents more than 600,000 journalists in 140 countries.
For further information contact IFJ Asia-Pacific on +61 2 9333 0946
Find the IFJ on Twitter: @ifjasiapacific
Find the IFJ on Facebook: www.facebook.com/IFJAsiaPacific
Comments