Press Statement
Afghan radio journalist assassinated at home
17 Jul, 2014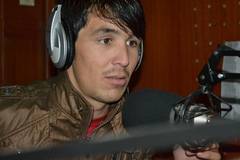 The International Federation of Journalists (IFJ) and its affiliate Afghanistan Independent Journalists Association (AIJA) have called for a thorough investigation into the shooting murder of radio journalist Khalid Agah Yaqubi this week. He is the fourth journalist to be killed in Afghanistan this year and marks a disturbing decline in journalist safety in the lead-up to and following the country's presidential elections earlier this year.
The Afghanistan Journalists Centre (AFJC) reported that Yaqubi answered a knock on the door in the late afternoon on Saturday, 12 July. As one of his children opened the door, they opened fire on Yaqubi and shot him in the head.
Lahza FM confirmed that Yaqubi, 23, was a radio producer and presenter of Lahza FM, a local radio station in Mazar-i-Sharif, the capital of Balkh province where he was an employee for the past five years. He was also in his third year in an engineering institute. Yaqubi leaves behind a wife and two children, aged two and four.
While the IFJ has been advised than an investigation has been launched, no further details on the murder, or the assassins, have been made available nor has a motive been determined.
AIJA said: "This savage incident shows once again that freedom of speech and the lives of journalists are still facing serious challenges in Afghanistan. We are asking local officials to investigate the incident properly and bring the murderers to justice".
With several threats and dangers to journalists and other media workers, the IFJ along with the AIJA demands that the safety of journalists in all regions be given a priority.
The IFJ said: "The IFJ has expressed its serious concerns surrounding journalist safety in Afghanistan with a rise in brutal attacks and killings against journalists. Impunity cannot be allowed to run rife if freedom of the press is to be achieved in Afghanistan."
The IFJ calls on Afghanistan authorities to ensure all threats to journalists are taken seriously and that details surrounding the murder of Khalid Agah Yaqubi are investigated and his killers brought to justice.
"We express our deepest condolences to the family of a young journalist brutally murdered in the most horrendous circumstances."
Written By

IFJ Asia-Pacific
The IFJ represents more than 600,000 journalists in 140 countries.
For further information contact IFJ Asia-Pacific on +61 2 9333 0946
Find the IFJ on Twitter: @ifjasiapacific
Find the IFJ on Facebook: www.facebook.com/IFJAsiaPacific
Comments