Press Statement
Afghanistan: Blocking access to international media major blow to access to information, union survey
06 Apr, 2022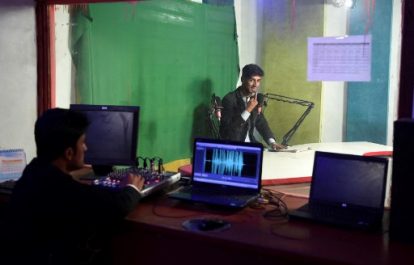 The recent decision of the Taliban regime to block the broadcast of international media has been a major blow for press freedom and public access to information in Afghanistan, according to a survey carried out by the Afghanistan's National Journalists Union (ANJU) supported by the International Federation of Journalists (IFJ). The IFJ calls for immediate action to restore the broadcast of international media, key for Afghan people to receive information about their country.
The Taliban-led government in Afghanistan banned the broadcasts of international media outlets being transmitted via local media, including the BBC, Voice of America News and DW, among others.
The targeting of international media follows the imposition of extremely tight restrictions on national and local Afghan media and journalists' work and comes amid growing efforts by the government to crack down on civil liberties in the country.
The latest ANJU survey revealed that the ban on international media is a final blow to the right of Afghan people to access information.
The lack of access to information, self-censorship, fear of reprisals and a severe economic crisis have diminished the capacity of national and local media to operate as it used to, making the international media the only way for Afghan citizens to be informed, despite the availability challenges.
The survey shows that 52% of respondents said they were following international media over local and national media since the Afghan government collapse. The study also found massive support and confidence towards international media, with 89% of respondents saying they trust international outlets operating in Afghanistan.
On the other hand, trust in national and local media remains high among Afghans, with 67% of respondents showing confidence in them despite the continuing restrictions on their freedom of work and the closure of hundreds of media outlets.
Surveyed Afghan journalists and civil society leaders said that an atmosphere of fear and panic is the biggest concern for journalists, as authorities de facto close media outlets or detain journalists for doing their job.
According to a previous survey conducted by ANJU and the IFJ, just 305 of the 623 media which were active before the Taliban took control are still operating. The collapse of media sector threats against journalists means just 2334 journalists are still working from a pre-Taliban high of 5069. Most of the journalists who have lost their jobs are women.
IFJ General Secretary, Anthony Bellanger, said: "Afghan people are being systematically denied their right to access to independent journalism under the passive gaze of the international community, which has failed to put pressure on the Taliban to respect the most basic rights. We urge the Taliban to reverse this decision and allow the broadcasting of all international media without restrictions."
This report is the latest in a series of surveys being compiled thanks to the development of a new media monitoring programme by ANJU, supported by the IFJ and the Norwegian Journalists Union (NJU).
Written By

IFJ Asia-Pacific
The IFJ represents more than 600,000 journalists in 140 countries.
For further information contact IFJ Asia-Pacific on +61 2 9333 0946
Find the IFJ on Twitter: @ifjasiapacific
Find the IFJ on Facebook: www.facebook.com/IFJAsiaPacific
Comments