Press Statement
Afghanistan: Chaos and fear as deadline looms, countries end evacuation efforts
27 Aug, 2021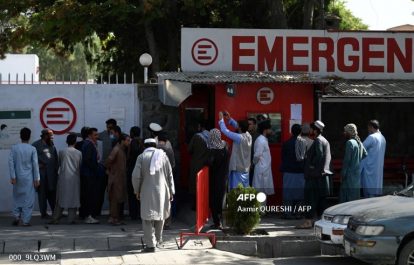 Despite ever growing requests for emergency evacuation from media workers in Afghanistan, a bomb blast at Kabul airport on August 26 has ended vital evacuation efforts for many countries. The International Federation of Journalists (IFJ) and its Afghanistan affiliates, the Afghan Independent Journalists' Association (AIJA) and the Afghanistan's National Journalists Union (ANJU) express grave concern for Afghanistan's media workers – both those still attempting to flee the country and the thousands more who will inevitably be left behind.
US forces helping to evacuate Afghans desperate to flee Taliban rule were on alert for more attacks after at least one Islamic State suicide bomber killed 85 people including 13 US soldiers outside the gates of Kabul airport in the evening of August 26. Two blasts and gunfire rocked the area outside the airport. Video shot by Afghan journalists showed dozens of bodies strewn around a canal on the edge of the airport. Islamic State (ISIS), an enemy of the Islamist Taliban as well as the West, said one of its suicide bombers targeted "translators and collaborators with the American army".
As the deadline looms for the US evacuation on August 31 and Taliban leaders's warnings to the US not to extend its stay, the IFJ and its affiliates have logged more than 2,000 requests for assistance from media workers trying to flee the country. European countries including Spain, North Macedonia, France, Mexico, Italy and Germany as well as the UK, the US and Canada have all confirmed direct support for journalist visas and assisted with evacuations but it is not clear how many journalists have actually made it out. Since August 14, a reported 82,000 people have been evacuated from Afghanistan in 'one of the largest U.S. airlifts in history'.
In the days ahead of yesterday's bombing, Kabul's airport had become increasingly chaotic and risky. IFJ received multiple reports of journalists with visas being turned away at airport gates and shuttle buses being blocked from entry to the airport by Taliban militants. Numerous countries including Australia, the UK, New Zealand, Canada, France and Belgium have now announced an end to evacuation efforts. "It is with deep regret that not everyone has been able to be evacuated during this process," UK Defence Secretary Ben Wallace said.
Further to earlier reported intimidations of media workers since Kabul's fall to the Taliban,  the AIJA reported that Tolo News journalist Ziar Khan Yad was beaten by Taliban members on August 26.  His cameras, technical equipment and mobile phone were  also reported to be taken away by Taliban militants.
IFJ monitoring of the situation on the ground reveal panic and desperation amongst Afghanistan's media community. It is reported that more than 160 Afghanistan journalists have fled to Pakistan, at least 20 to India and many more evacuated to Qatar as a transit point. The Pakistan Federal Union of Journalists (PFUJ), the IFJ's Pakistan affiliates, is negotiating with the Pakistan government for granting visa and other necessary administrative support to the journalists entered into Pakistani territory.
Governments of some countries including the USA and the UK have introduced  a policy to grant visa to Afghanistan journalists, human right defenders in risk while international media companies and individual journalists have also been successfully evacuating Afghan staff.
The Wall Street Journal reported it had evacuated its last workers out of Kabul while The Washington Post and The New York Times also helped dozens of employees exit the country, some with the assistance of IFJ and CPJ.  Similarly, Fox News also evacuated several Afghan 'associates'. BBC is also reported to have evacuated at least 20 staff to India, though the total staff number is understood to be up to 100.
The IFJ has been working with its affiliates globally to support evacuation and secure visas but the list of requests far outstrips the capacity. IFJ affiliates from around the world are continuing to send messages of solidarity and support to their colleagues in Afghanistan amid the chaos.
The IFJ commends the tireless efforts of its affiliates in Afghanistan during this time as they are burdened with the impossible task of supporting a media in crisis and fleeing in fear.
The IFJ has established a special Afghanistan Solidarity Fund within the IFJ Safety Fund to channel further support and is urging those who can to make a donation.
The ANJU said: "With the new situation in Afghanistan, there are lots of concerns regarding the future of free media. Already, there are direct and indirect pressure on media. Also the life of journalists is in danger."
The AIJA said: "This is the most difficult period in the history of journalists in Afghanistan. All journalists' organizations are closed. In addition to relocating journalists out of Afghanistan, we need to provide safety for journalists that can't leave."
The IFJ said: "Despite the efforts of many unions and journalists from international media community, the efforts are not enough to help all those who need evacuation. There is simply not enough time and airspace to get these people out. Once a rescue is made, we also need to ensure that international media companies that employed these people continue to provide the vital assistance to support these people. It's a tragedy for Afghanistan's people and a tragedy for media freedom."
To help IFJ support journalists in Afghanistan, donate to the IFJ safety fund.
Written By

IFJ Asia-Pacific
The IFJ represents more than 600,000 journalists in 140 countries.
For further information contact IFJ Asia-Pacific on +61 2 9333 0946
Find the IFJ on Twitter: @ifjasiapacific
Find the IFJ on Facebook: www.facebook.com/IFJAsiaPacific
Comments