Press Statement
Afghanistan: Deadly bomb attack targets journalists at press event
11 Mar, 2023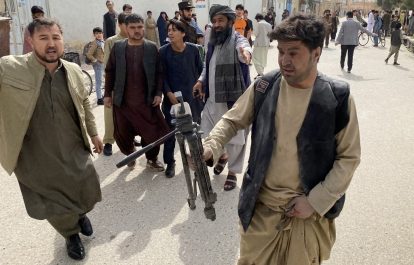 At least three people have been killed, including two journalists, and over 30 injured in an Islamic State (IS) bomb attack at a press award ceremony for media workers in northern Afghanistan on March 11. The International Federation of Journalists (IFJ) joins its affiliate, the Afghan Independent Journalists Union (AIJU), in calling on the Taliban to bring the perpetrators of this heinous crime to justice and end impunity for crimes against journalists.
The explosion occurred at an event honouring journalists working in the north of Afghanistan at the Tabyan Cultural Centre, located in Mazar-e-Sharif, Balkh province, where media workers, local authorities and religious figures gathered to celebrate Afghanistan's National Journalist's Day.
According to the Afghanistan Journalists Centre (AFJC), a parcel bomb detonated at around noon in the grounds of the cultural centre, which is also the office of the news outlet Afghan Voice. While reports confirmed the death of one security guard, the AIJU later confirmed the deaths of journalist Hossein Naderi and media trainee and journalism student Akmal on March 12.
A spokesperson for the Balkh police, Mohammed Asif Waziri, confirmed that at least eight people were injured in the initial impact, including five journalists and three children. The AIJU confirmed the names of 14 media workers injured with some in critical condition, while the AFJC estimated more than 30 attendees were wounded in total.
Local journalist Atif Arian said that after a senior Taliban official gave a speech, he heard a loud explosion, while journalist Atef Erian, who was also present, said that "chaos erupted" after the targeted attack.
The IS militant group has since claimed responsibility for the act of terror, the second incident within three days in the Balkh province. On March 9, Balkh governor Mohammad Dawood Muzammil was killed in a suicide bombing also claimed by IS, one of the highest-level attacks since the Taliban's takeover of Afghanistan.
"The blast targeted a rally held inside a Shiite centre to reward several journalists working in agencies involved in the war and instigation against IS," said an IS statement on its Amaq news agency.
Since the Taliban assumed power in August 2021, the IFJ has monitored the increasing restrictions and persecution facing Afghan journalists and media workers, as the country's media industry experiences a prolonged financial collapse. Acts of violence and harassment against the media from IS militants and members of the Taliban have been frequently documented.
The AIJU said: "Journalists are the true voice of the Afghan people and an attack on the lives of journalists is an attack on freedom of speech and the Afghan people. While condemning this attack, the Afghan Independent Journalists Union wants the relevant authorities to follow this case seriously and identify its perpetrators. At the same time, the AIJU asks the authorities of the Islamic Emirate to pay serious attention to the safety and security of journalists in the centre and provinces."
IFJ Secretary General Anthony Bellanger said: "The IFJ strongly condemns the heinous and targeted act of violence against journalists and media workers in Afghanistan and calls on the Taliban to take immediate action to bring the perpetrators to justice. This attack and the deaths of two media workers is a tragic reminder of the dangerous and challenging environment in which journalists work in Afghanistan and underscores the urgent need to provide greater protection and support to those who risk their lives to report the news."
Written By

IFJ Asia-Pacific
The IFJ represents more than 600,000 journalists in 140 countries.
For further information contact IFJ Asia-Pacific on +61 2 9333 0946
Find the IFJ on Twitter: @ifjasiapacific
Find the IFJ on Facebook: www.facebook.com/IFJAsiaPacific
Comments