Press Statement
Afghanistan: Female television anchor and driver shot dead
11 Dec, 2020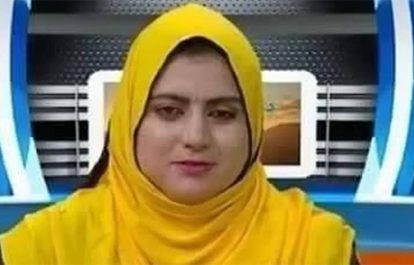 Malala Maiwand, 25, a female TV anchor for Enkaas TV and Radio, was killed by gunmen in a targeted attack in Nangarhar province in eastern Afghanistan on December 10. The International Federation of Journalists (IFJ) and its Afghanistan affiliate, the Afghan Independent Journalists' Association (AIJA) condemn the brutal killing and urge authorities to take swift and meaningful action to ensure the safety of journalists in Afghanistan.
The assailants opened fire on Malala Maiwand's car as she left to travel to work in Jalalabad from her home in eastern Nangarhar province. Both Malala and her driver, Mohammad Tahir, were killed. Following the shooting, the assailants fled the scene. The Islamic State (IS) has since claimed responsibility for the shooting, terming her a "pro-regime" journalist. Nangarhar is well known for IS militant activity and the group claimed responsibility for most of the recent attacks on civilians in the area.
Tragically, Malala's murder happened on the last day of the UN global annual 16 days of activism campaign against violence against women.Known as a women's rights activist, Malala had previously delivered a speech about the challenges for female journalists in Afghanistan. Her mother, who was also a women's right activist, was shot dead by unknown assailants five years ago.
The targeted killing is the first since the North Atlantic Treaty Organization (NATO) and the European Union (EU) issued a joint statement on December 7 condemning attacks on journalists and religious leaders.
Malala is the fourth Journalist to be killed in Afghanistan in 2020. On November 12, Elias Daei,  33-year-old correspondent for US-funded Radio Liberty (RFE/RL) was killed in an targeted explosion in Helmand province. Former television presenter Yama Siawash was killed  in the explosion in Makrorayan-e-Char area of Kabul on November 7. Earlier in the year on May 30, Khurshid TV journalist Zamir Amiri was killed when a roadside bomb exploded targeting the bus carrying  Khurshid TV station employees. According to the IFJ South Asia Press Freedom Report, six journalists were killed in Afghanistan in 2019.
The AIJA said: "AIJA urges the Afghanistan security institutions to investigate the killing, share findings with the media community and punish the guilty."
The IFJ General Secretary, Anthony Bellanger, said: "The IFJ strongly condemns the murder of Malala Maiwand. A targeted murder of a female journalist in Afghanistan as  the world observes a 16-day campaign against violence against women is stressful and disturbing. The challenges for women journalists and activists cannot be underestimated. The cost of standing up for their rights should not cost them their lives."
Written By

IFJ Asia-Pacific
The IFJ represents more than 600,000 journalists in 140 countries.
For further information contact IFJ Asia-Pacific on +61 2 9333 0946
Find the IFJ on Twitter: @ifjasiapacific
Find the IFJ on Facebook: www.facebook.com/IFJAsiaPacific
Comments