Press Statement
Afghanistan hands over freed journalist to Pakistan union delegation
30 Sep, 2014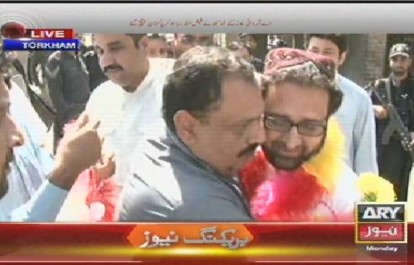 The International Federation of Journalists (IFJ) and its affiliate the Pakistan Federal Union of Journalists (PFUJ) have commended the Afghanistan government on its decision to release Pakistani journalist Faizullah Khan. Khan was handed over to Pakistan at the Torkham border yesterday, Monday, September 29, 2014. The IFJ also congratulates the work of its Pakistan affiliate in in its efforts to facilitate Khan's release.
A delegation of the PFUJ senior officials comprising Rana M Azeem, Raja Riaz, Zia ul Haq and Sher Khan Afridi received the ARY News journalist at Torkham, on the Pakistan-Afghan border. An Afghan representative handed over Faizullah to Pakistan's political agent Shahab Shah at the border. Khan's wife and children were also present on the occasion.
Khan was freed on the orders from the Nangarhar High Court on Sunday, September 28 after outgoing Afghan President Hamid Karzai ordered his release. Khan was reported missing on April 22 after he told his supervisor he would be going to interview senior Taliban officials near the Afghan/Pakistan border. He was arrested on April 30 by Afghan security forces on charges of espionage and immigration violation, allegedly because he was unable to provide the required immigration documentation. The espionage charges were later dropped but on July 12 a court found him guilty of the offence of 'entering without travel documents and communicating with militant sources' and handed down a four-year jail sentence.
Khan thanked foreign office of Pakistan, the IFJ, the PFUJ and other local and international organizations for raising their voices and protests over his detention and vowed to continue his journalistic activities to unearth the truth. He also thanked the Afghan government for making arrangements for his release.
The PFUJ said: "We would continue our efforts in favour of journalists and help them whenever required. The PFUJ thanks the IFJ, Pakistan's foreign office and other journalist organizations raising voice and making efforts to free the journalist."
The IFJ Asia Pacific deputy director Jane Worthington said: "The IFJ is relieved that Faizullah Khan is safely back home and we're pleased that this incident has not affected his passion and drive to continue his work as journalist. The IFJ thanks the Afghanistan government and all other involved for his release and hope that such unfortunate events would not repeat in future."
Written By

IFJ Asia-Pacific
The IFJ represents more than 600,000 journalists in 140 countries.
For further information contact IFJ Asia-Pacific on +61 2 9333 0946
Find the IFJ on Twitter: @ifjasiapacific
Find the IFJ on Facebook: www.facebook.com/IFJAsiaPacific
Comments