Afghanistan
Afghanistan: Is journalism mission impossible?
14 Feb, 2022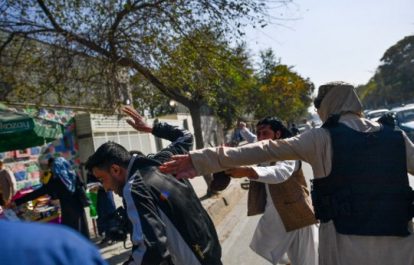 How would you keep reporting when government officials threaten you regularly? How would you run your news program when it's almost impossible to access public information? Would you publish your story when you face arbitrary detention or repression for it? No need to wonder, that's the life of Afghan media workers under the Taliban regime.
Has Afghanistan become a news desert? 
The answer is largely, yes. The lack of access to public information and the growing censorship of the Taliban regime on Afghan media workers are stifling journalists' ability to work and turning the country into a news desert in which both Afghans and international audiences have very limited access to reliable information.
The Taliban takeover in Afghanistan attracted massive attention from international media. We all witnessed dramatic images of Afghan families trying to escape, desperately fearing reprisals from the Taliban for their professional activities, ideas or beliefs. However, the media attention largely disappeared as soon as the Western countries' personnel were not at risk anymore.
Many of the Afghans trying to escape were journalists and media workers who had to choose between life and death, the men and women who helped develop a vibrant media sector over the last two decades as part of the development of a stronger civil society in Afghanistan.
While some were relocated to safe countries thanks to the work of the IFJ and many other rights groups, many others have been forced or have chosen to stay and try to continue doing their job under extremely difficult conditions that range from official and unofficial censorship to physical threats to serious financial problems in the media sector which have led to unemployment rates of 70% among journalists and the closure of dozens of media.
A daily struggle for information
Despite the adversities, courageous Afghan journalists and media outlets continue to do a commendable job in reporting on what is happening in the country.
The Afghanistan National Journalists Union (ANJU), with the support of the IFJ and the Norwegian Journalists Union, conducted a comprehensive survey among hundreds of Afghan journalists, a significant majority of whom denounced the difficulties they face in accessing public information and the censorship they suffer under the Taliban rule.
For example, 86% of respondents complained about the lack of a clear legal framework for journalists to access public information that helps them to understand what practices are legal and which ones are not. A big majority of them called urgently for the development of clear legislation for media and journalists to operate.
Journalists and media workers also expressed widespread concerns over censorship of their work. 70% of the 500-plus journalists surveyed said that Afghan media can't broadcast freely and independently, while 24% of them said they can do very little without the permission of the Taliban. This has a direct impact on the media which often lacks enough news content to produce the programs they did in the past. Ultimately, this incapacity to produce content has led to a massive closure of media outlets and loss of jobs: 2334 journalists are still working from a pre-Taliban high of 5069.
Threats to media freedom go beyond censorship and they affect both international and national reporters and they strongly limit the information we receive about what's going on under the new Taliban rule. Most respondents said they can't cover news events without verbal and physical harassment, preventing them from covering sensitive stories such as rallies and protests against the authorities for fear of facing reprisals.
The media landscape in Afghanistan is perishing at breakneck speed. The Taliban needed just a few months to turn a vibrant media sector into a news desert. From a media sector with women journalists and a rich presence of international correspondents, to a media in which few women can work and where independent journalists and media workers face imprisonment and physical attacks if they dare to do their job.
Written By

IFJ Asia-Pacific
The IFJ represents more than 600,000 journalists in 140 countries.
For further information contact IFJ Asia-Pacific on +61 2 9333 0946
Find the IFJ on Twitter: @ifjasiapacific
Find the IFJ on Facebook: www.facebook.com/IFJAsiaPacific
Comments