Press Statement
Afghanistan: Journalist beaten and arrested by Taliban militants
10 Jun, 2022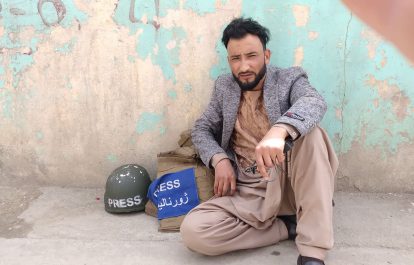 In a continued slate of attacks against Afghan media, journalist Reza Shahir was beaten by Taliban militants for a second time on June 3 and three other journalists were charged with criminal insult on May 4. The International Federation of Journalists (IFJ) condemns the attack and the arrests of the four journalists and urges the Taliban to cease its increasing assaults on journalists and media workers.
In a Facebook post, Reza Shahir said that Taliban fighters attacked him while he was walking home in Kabul's Disctrict 18, around midnight. Taliban militants initially searched Shahir and took his mobile phone. After discovering screenshots of media reports of Shahir's previous detention, they accused him of colluding with foreign governments and espionage.
Shahir was subsequently punched in the head, beaten with an AK-47 and knocked unconscious. He sustained light injuries from the attack.
This is the second incident of Taliban militants attacking Shahir. On April 19, the Taliban arrested Shahir while he was reporting on a bombing at the Abdul Rahim Shahid school in Western Kabul. Shahir was accused of being "complicit in organising the attack" and was held inside a room where he was severly beaten before his eventual release two hours later.
Prior to the April 19 attack, Shahir worked for local radio and television, Rah-e Farda TV, but has since worked as a freelance reporter.
In a separate incident on May 4, three journalists were arrested, detained for several hours and released on bail in the Faryab province. Firoz Ghafori, Mosamem and Olugh Beig Ghafori were charged with criminal insult regarding their 2019 and 2020 reporting on corruption allegations involving current government officials.
Arbitrary detainments, arrests and attacks on media workers have continued to increase since the Taliban seized control of Afghanistan in 2021. In the latest South Asia Press Freedom report, the IFJ documented 75 media rights violations, including 12 killings and 30 arrests, in Afghanistan from May 2021 to April 2022. An estimated 1,000 journalists have fled the country since last August, with threats, harsh restrictions and economic collapse leading to mass closures of media outlets.
The IFJ said: "The Taliban must immediately halt their increasing attacks and arbitrary detentions of journalists and media workers in Afghanistan. The IFJ calls for an immediate investigation into the beating of journalist Reza Shahir and the withdrawal of all charges against journalists Firoz Ghafori, Mosamem and Olugh Beig Ghafori."
Written By

IFJ Asia-Pacific
The IFJ represents more than 600,000 journalists in 140 countries.
For further information contact IFJ Asia-Pacific on +61 2 9333 0946
Find the IFJ on Twitter: @ifjasiapacific
Find the IFJ on Facebook: www.facebook.com/IFJAsiaPacific
Comments