Press Statement
Afghanistan: Journalist injured in deadly military convoy blast
06 Dec, 2019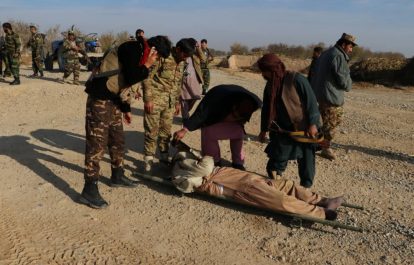 A roadside bomb in Helmand province in Afghanistan seriously injured a reporter travelling in a military convoy on November 30, 2019. The International Federation of Journalists (IFJ) and its affiliate the Afghan Independent Journalists' Association (AIJA), call for stronger security measures for journalists reporting in the field.
According to reports, Sardar Mohammad Sarwari, a reporter with Shamshad TV, sustained severe injuries to his head and leg in the blast when the Taliban attacked the convoy travelling from Lashkargah to Marjah in southern Helmand. He had been accompanying security forces on a military operation against Taliban in the Marjah district which has been under Taliban control for four years.
Sardar was one of three civilians injured in the attack. Two security officials were killed, including General Zahir Gul Muqbil. Sardar was admitted to the hospital and has undergone surgery.
AIJA called on Afghanistan authorities to expedite support for Sarwaris' treatment, while also urging reporters to avoid travelling with military convoys to avoid such incidents.
The IFJ said: "We condemn this violent attack, which included civilian casualties. Afghanistan remains the word's most deadly workplace for journalists and greater efforts need to be undertaken to train media and ensure their employers take every precaution when their staff go out into the field or are embedded or travelling with military."
Written By

IFJ Asia-Pacific
The IFJ represents more than 600,000 journalists in 140 countries.
For further information contact IFJ Asia-Pacific on +61 2 9333 0946
Find the IFJ on Twitter: @ifjasiapacific
Find the IFJ on Facebook: www.facebook.com/IFJAsiaPacific
Comments