Press Statement
Afghanistan: Justice for less than 6 percent of crimes against journalists
02 Nov, 2021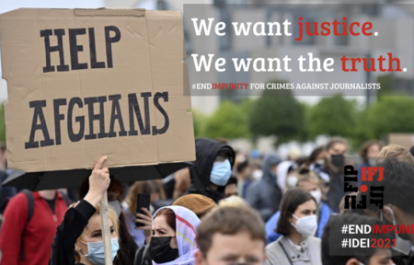 Although 87 journalists were murdered in the course of their duties in the last decade in Afghanistan, only 5 cases have been resolved. The International Federation of Journalists (IFJ) and the South Asia Media Solidarity Network (SAMSN) express serious concern that the Taliban's takeover may further increase impunity for crimes against journalists.
According to the IFJ's documentation, between 2010 and 2021, 87 Afghan journalists have been killed in the line of duty, of which only 5 cases are resolved. This is just 5.7 percent. At least 9 journalists and media workers have lost their lives in 2021 alone, with no justice for a single case. Since the Taliban came to power in August 2021, at least six journalists have been killed due to their profession and many more are suffering intensifying threats, harassment, intimidation and violence.
While the Taliban are clearly neither committed nor interested in upholding the safety of journalists and preserving press freedom, the formerNational Unity Government, led by President Ashraf Ghani, was also just as unable to investigate new or historic cases and achieve justice. In the case of the murder of Malala Maiwand, a female television anchor for Enkaas TV and radio, who was killed on December 10, 2020, two suspects were arrested just two days later. But no justice has been delivered. A suspect was arrested within a week of the assassination of journalist Elyas Daee in Afghanistan's Helmand province on November 12, but the justice process was also delayed. Although the Afghanistan government announced that they arrested a member of the ISIS group said to be involved in the killings of three Enikass TV employees, Shazia Roufi, Saadia Sadat and Morsal Wahedi on March 2, 2021, again justice has not been served .
With the Taliban's regime solidifying in Afghanistan, the IFJ expects a further increase in crimes against journalists and persisting impunity. On October 21, Taliban militants attacked several journalists covering a women's demonstration in Kabul, while on September 7 and 8, the Taliban also arrested more than 14 media workers for their coverage of the anti-Pakistan and Women's protests. OnSeptember 19, the interim director of the so-called Government Media and Information Centre (GMIC) announced 11 new media regulations for Afghanistan's media industry, which can be arbitrarily interpreted to censor broadcast content and restrict press freedom. According to the IFJ's documentation, more than153 media organisations have now ceased operations as the Taliban regime solidifies; with women journalists barred from working, a spike in telecommunication shutdowns and increased threats and violence towards media workers.
According to a research report by the Afghanistan National Journalists Union (ANJU) titled 'Reflecting the current situation of Afghan Journalists and Media Workers in Afghanistan' that surveyed 1,379 journalists and media workers from 28 provinces in Afghanistan, more than 70% of all respondents had received threats since the Taliban came to power in mid-August .
The SAMSN said:"The SAMSN is concerned by the increased attacks on journalists, media workers and the media sector as a whole, following the Taliban's takeover in Afghanistan. During its previous regime the Taliban heavily controlled the press and placed critical restrictions on journalists, and we are fearful that impunity for crimes against journalists will be even more gravely exacerbated under current Taliban rule. We recognise the efforts of Afghan journalists who are continuing to report on Afghanistan's dire situation to the world despite severe challenges and threats to their safety. The SAMSN also expresses its solidarity with all Afghan journalists and expresses its commitment to continue its cooperation and support efforts during this trying time."
The IFJ said: "The IFJ is well aware that the Taliban's so called government have absolutely no intent to address issues related to impunity for crimes against journalists or to bring justice to the 87 journalists murdered since 2010. It is high time that the international community expedites their advocacy and compels the Taliban regime to take immediate action to combat impunity. We must work to protect the safety of journalists and uphold press freedom."
Written By

IFJ Asia-Pacific
The IFJ represents more than 600,000 journalists in 140 countries.
For further information contact IFJ Asia-Pacific on +61 2 9333 0946
Find the IFJ on Twitter: @ifjasiapacific
Find the IFJ on Facebook: www.facebook.com/IFJAsiaPacific
Comments