Press Statement
Afghanistan: Kabul Times reporter detained and attacked
23 Dec, 2021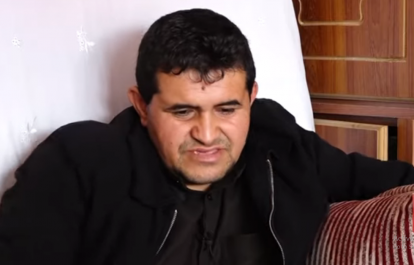 Sayed Rashed Kashefi, a reporter with the Kabul Times and Rasa TV, was allegedly beaten and detained for over six hours while covering a fight at an aid distribution site in Kabul's 5th district. The International Federation of Journalists (IFJ) and its Afghanistan affiliate, the Afghan Independent Journalists' Association (AIJA), condemn the journalist's detention and urge the Taliban authorities to swiftly investigate the incident.
On December 11, Abdul Matin Rahimzai, director of the Taliban administered Kabul Directorate of Refugee Affairs, and his bodyguards, interrupted Kashefi as he filmed a scuffle between one bodyguard and several female aid recipients.
Kashefi's hands were tied and he was taken to the office of the Directorate of Refugee Affairs, where he was interrogated about the motive of the recording.
Rahimzai allegedly slapped the journalist on his face during the inquiry and confiscated both his smartphone and voice recorder used to document the incident. A bodyguard then handcuffed Kashefi and detained him for approximately six hours before his release.
According to Kashefi, Rahimzai's bodyguard struck him on his back several times with a pipe. The journalist suffered wounds from the beating, according to photos posted by the Afghanistan Journalists Centre on Twitter.
Once the AIJA learned of the incident, it lobbied for Kashefi's immediate release and the return of the confiscated recording devices, however, these have not been returned.
Afghanistan's media landscape is increasingly fraught, as attacks against journalists and media workers, financial stress and harsh media restrictions increase following the Taliban's takeover in mid-August. As many as 257 media outlets have shuttered since the Taliban gained control and, according to research conducted by the Afghanistan National Journalists Union (ANJU), at least 67% of journalists and media workers have been rendered jobless.
The AIJA said: "The AIJA believes that the manner in which journalist Kashefi was dealt with, investigated, beaten up, and detained by the Kabul Chief of Refugee Affairs wasan illegal act. Therefore, we call on the Afghan government officials to punish the perpetrators and other cases of violence against journalists, in order to strengthen freedom of expression and prevent violence against journalists."
The IFJ said: "Instances of intimidation, detention and attacks on journalists and media workers continue to increase since the solidification of the Taliban regime. The IFJ urges the Taliban to thoroughly investigate the incident and ensure that its members cease their attacks on journalists, allowing the media to function independently."
Written By

IFJ Asia-Pacific
The IFJ represents more than 600,000 journalists in 140 countries.
For further information contact IFJ Asia-Pacific on +61 2 9333 0946
Find the IFJ on Twitter: @ifjasiapacific
Find the IFJ on Facebook: www.facebook.com/IFJAsiaPacific
Comments