Press Statement
Afghanistan: Killers of Abdul Manan Arghand sentenced to death
02 May, 2019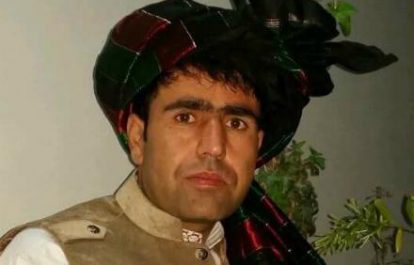 Two journalist killers have been sentenced to death for the murder of Afghan journalist Abdul Manan Arghand. The International Federation of Journalists (IFJ) welcomes government action to address impunity but is concerned the case was held in secret and delivered a sentence that does not comply with international standards.
According to TOLO News, on April 16 the Attorney General's Office said in the statement that two suspects had been sentenced to death for killing Abdul Manan Arghand on April 25, 2018. According to the statement the two men murdered Abdul in Kandahar in southern Afghanistan after Abdul's name was included on a Taliban hit list.
All court proceedings relating to the case were sealed and the public nor the media were able to attend.
Abdul worked for Kabul News TV and has also worked for China's state-owned Xinhua. He was killed the day before nine journalists and media workers were killed in a suicide bomb attack in Kabul.
Afghan Independent Journalists Association (AIJA) president, Samandar Khan said: "AIJA leadership is not satisfied and sure that these two sentenced to death is really connected to killing of Afghan journalist Abdul Manan Arghand. Former Kandahar police chief General Raziq arrested some of his enomies and opposite arrmed groups and called them Arghand killers. In whole process; a small part of information, avedance, documents and recoding were not shared with AIJA technical team who is member of inspection and monitoring team in Ministry of Interior. AIJA and other media organizations were kept away from police, attorneys  investigations and court procedures. Arghand family rejected the links between these two arrests and Arghand killing in the beginning and now they have rejected again their sentenced to death links with Arghand killing. Same Mr.Ahmadsha family rejecting the links of suspected people arrested linked to his case and punished. In all journalists cases government officials were not able to arrest real connected people and involved in killings or attacks."
The IFJ said: "We call on the Afghan government to ensure more is done to protect journalists in one of the world's deadliest countries for journalists. According to IFJ figures, Abdul was one of 16 journalists killed in Afghanistan in 2018. We urge the secondary court and the Supreme Court, which will review the case, to ensure the case is held in public and justice is delivered according to international standards."
On May 3, the IFJ and SAMSN will release the annual South Asia Press Freedom Report, which will document cases such as these.
Written By

IFJ Asia-Pacific
The IFJ represents more than 600,000 journalists in 140 countries.
For further information contact IFJ Asia-Pacific on +61 2 9333 0946
Find the IFJ on Twitter: @ifjasiapacific
Find the IFJ on Facebook: www.facebook.com/IFJAsiaPacific
Comments