Press Statement
Afghanistan: Local media raise concerns of journalist safety with Taliban officials
06 Sep, 2021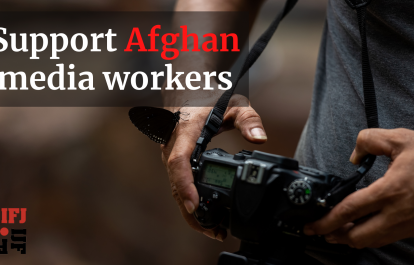 Local media groups left in Afghanistan met with Taliban leaders on September 3 to address concerns around journalist safety. The International Federation of Journalists (IFJ) is cautious over the Taliban's commitment to combating impunity for crimes against journalists in Afghanistan.
The meeting, chaired by Ahmadullah Wasiq, a senior official of the Taliban's cultural affairs, was attended by the Kabul Police and local media organisations. Hujatullah Mujadidi, vice president of IFJ affiliate, the Afghanistan Independent Journalists Association (AIJA), is serving as a focal point for local media groups to report on attacks against the media and journalists.
According to Mujadidi, the meeting noted the Taliban militant raid of Zalmai Lotfi, the head of Enikaas TV's house on August 20, and the attack against Tolo News reporter Ziar Khan Yad on August 26. The meeting raised that security and intelligence agencies are working on these cases and have arrested one person in each case.
Since the Taliban seized Kabul on August 15, two journalists have been killed while carrying out work, and two others were killed fleeing the country. The IFJ and its affiliates have logged more than 2,000 requests for assistance from media workers trying to flee the country, seek refuge or request financial support.
The IFJ's South Asia Media Solidarity Network (SAMSN) urged the South Asia Association for Regional Cooperation (SAARC) governments to respect press freedom and the safety of media workers in Afghanistan.
The IFJ said: "While Taliban officials have expressed sentiments in support of press freedom in Afghanistan, the actions of Taliban militants are contradictory. The IFJ remains concerned about the façade of press freedom created by the Taliban."
Written By

IFJ Asia-Pacific
The IFJ represents more than 600,000 journalists in 140 countries.
For further information contact IFJ Asia-Pacific on +61 2 9333 0946
Find the IFJ on Twitter: @ifjasiapacific
Find the IFJ on Facebook: www.facebook.com/IFJAsiaPacific
Comments