Press Statement
Afghanistan: Media crackdown intensifies as international broadcasters taken off air
31 Mar, 2022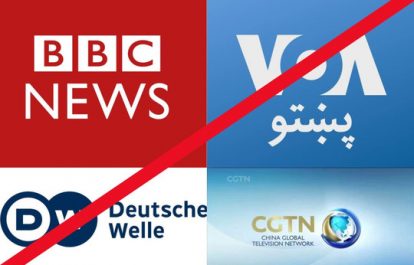 At least four news broadcasters have been taken off air, eight media workers arrested, and two media houses shuttered by the Taliban since March 26, amid a wide-reaching ban on foreign media. The International Federation of Journalists (IFJ) and its Afghanistan affiliate, the Afghanistan National Journalists' Union (ANJU), call for the immediate release of the detained journalists and the retraction of all arbitrary restrictions on both national and international media with the intention of stifling press freedom.
On March 27, the BBC revealed that its news bulletins in Persian, Pashto and Uzbek languages were taken off air after their local partners were ordered to remove all international broadcasters from Afghanistan's airwaves by the Taliban. According to the BBC, its Persian television channel can still be accessed via satellite.
"This is a worrying development at a time of uncertainty and turbulence for the people of Afghanistan. More than six million Afghans consume the BBC's independent and impartial journalism on TV every week, and it is crucial that they are not denied access to it," Tarik Kafala, head of languages at the BBC World Services said in a statement.
The same day, Voice of America (VoA), an American broadcaster that airs a half-hour news bulletin in Pashto and Dari languages, was barred from broadcasting its program produced for Afghan partners TOLOnews and Shamshad TV.
The Taliban's ban also extended to German broadcaster Deutsche Welle (DW), which announced that its political talk show "Aashti" in Dari and Pashto would no longer run from March 28, and the Chinese state-run China Global Television Network (CGTN). The crackdown on foreign broadcasters follows the Taliban's ban on foreign television programs earlier this month.
The Taliban have also targeted journalists, with more than eight arrested in two days. On March 26, Mirwais Atal, director of Zema Radio in Kandahar was detained for unknown reasons. According to the Afghan Journalists Centre (AJC), he has now been released. Sarwar Hashemi, a Salam Watandar journalist, was also detained by the Taliban for six hours while he was covering a protest program by women's group on March 26.
On March 28, Radio Millat Zhagh's news manager, Farid Alizai, the producer Rahimullah Noori, technical chief Mahmood Mehraban, and another  staff member from Radio Saangi, were detained by Taliban militants. on March 28. Officials confirmed that a further two staff members from Radio Zema and Radio Tabasum were also arrested for unknown reasons.
Following the journalists' arrests on March 28, the Taliban ordered two radio broadcasters, Radio Millat Zhagh and Radio Saangi, to suspend operations and shutdown.
According to a survey conducted by ANJU across 33 of Afghanistan's provinces, a total of 318 media have closed since the Taliban came to power in August 2021. Only 305 of the 623 media organisations active before the beginning of the Taliban regime are still operating.
ANJU said: "After the de facto authorities took power, the Taliban regime not only created media restrictions and violence against journalists but also closed the international broadcasting media outlets in Afghanistan. Meanwhile, the de facto authorities imposed censorship and threats on national media outlets. Thus, ANJU condemn the de facto authority's decision on closing the international media outlets operation in Afghanistan."  
The IFJ said: "The Taliban's intensifying vilification of Afghanistan's journalists, media workers, and media organisations is deeply concerning, with press freedom in the country reaching another alarming low. The IFJ calls for the immediate release of all detained media personnel and the reinstatement of all broadcasters and media organisations affected by the Taliban's new media restrictions. The Taliban must immediately cease its intimidation of Afghanistan's media." 
Written By

IFJ Asia-Pacific
The IFJ represents more than 600,000 journalists in 140 countries.
For further information contact IFJ Asia-Pacific on +61 2 9333 0946
Find the IFJ on Twitter: @ifjasiapacific
Find the IFJ on Facebook: www.facebook.com/IFJAsiaPacific
Comments