Press Statement
Afghanistan: New report outlines draconian conditions for women journalists under Taliban rule
12 Aug, 2022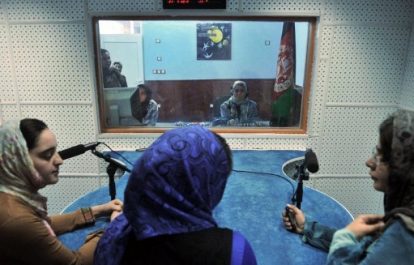 A new report released by an IFJ Afghan affiliate has outlined the bleak conditions faced by women journalists in Afghanistan, including financial uncertainty, unemployment and security concerns. The International Federation of Journalists (IFJ) has joined forces with Afghan journalists to condemn the dire conditions and called for international solidarity to protect media rights in Afghanistan.
The new report, released in August, outlines the draconian conditions imposed on women working in journalism in Afghanistan, with findings revealing rising levels of insecurity in finance, safety and employment, owing to the systemic gendered discrimination established by the Taliban regime.
Women journalists are more likely to face harassment and intimidation from authority figures including Taliban officials and law enforcement.
A survey conducted in early March 2022, cited in the report, found that 91 per cent of women journalists provided the only source of income for their families.
A separate study conducted by a press freedom organisation, found that, as of December 2021, the number of provinces in Afghanistan without any working women journalists increased from five to 15 after the Taliban takeover.
A survey from Deutsche Welle Akademie, from February 2022, found less than 12% of women working in media have remained employed since August 2021.
Women also faced widespread job insecurity in broadcasting, with a survey finding that over 82 percent of women working in radio have lost their jobs in the last year, compared to 39 per cent of men in the same industry.
The report showed women journalists continue to require increased assistance from international governments and agencies to improve their safety and security under the new regime. It also called for further campaigns and resources to defend press freedom and media institutions in Afghanistan.
The IFJ has documented several specific restrictions placed on women journalists by the Taliban, including adecree from the Taliban's Ministry for the Propagation of Virtue and Prevention of Vice, issued on May 21, which instructed all women broadcasters to cover their faces on air.
The IFJ said: "This report highlights the continuing severe conditions faced by women journalists and media workers in Afghanistan. The IFJ calls on the international community to urgently increase its support for Afghanistan's media so that press freedom and freedom of expression may be maintained.
Written By

IFJ Asia-Pacific
The IFJ represents more than 600,000 journalists in 140 countries.
For further information contact IFJ Asia-Pacific on +61 2 9333 0946
Find the IFJ on Twitter: @ifjasiapacific
Find the IFJ on Facebook: www.facebook.com/IFJAsiaPacific
Comments