Press Statement
Afghanistan: Reuters journalist Danish Siddiqui killed in crossfire
19 Jul, 2021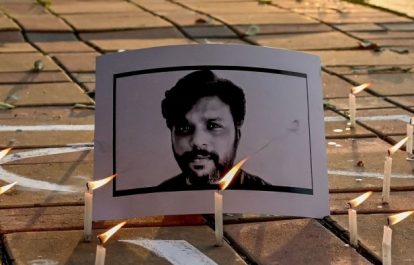 Danish Siddiqui, an Indian photojournalist with Reuters news agency, was killed in crossfire while covering a fierce battle between Afghan security forces and Taliban militants in Kandahar province on Friday, July 16. The International Federation of Journalists (IFJ) and its affiliates the Afghan Independent Journalists' Association (AIJA) and the Afghanistan's National Journalists Union (ANJU) condemn the killing and urge for support for media in the deteriorating climate in Afghanistan as US troops withdraw and fighting between the Afghan army and Taliban militants intensifies.
Siddiqui was a veteran photojournalists and a member of the Reuters photography team that won a Pulitzer Prize in 2018 for their images of the Myanmar Rohingya crisis. The 41-year-old, who was chief photographer for Reuters in India, was on a reporting assignment ahead of the US force withdrawal from Afghanistan on September 11.
Reuters reported that Siddiqui was embedded with a convoy of Afghan forces that was ambushed by Taliban militants near a key border post with Pakistan, according to reports. It is unclear how many others died in the attack. Afghan special forces were fighting to retake the main market area of Spin Boldak when Siddiqui and a senior Afghan officer were killed.
"We are urgently seeking more information, working with authorities in the region," Reuters President Michael Friedenberg and Editor-in-Chief Alessandra Galloni said in a statement. "Danish was an outstanding journalist, a devoted husband and father, and a much-loved colleague. Our thoughts are with his family at this terrible time."
Reports said Taliban fighters seized the border area on July 14, the second-largest crossing on the border with Pakistan. The capture of the border crossing is seen as a decisive objective for the Taliban. With foreign troops withdrawing after 20 years of conflict, Taliban militants are retaking territory across the country, sparking fears of a potential civil war.
The International Federation of Journalists remains gravely concerned about the wellbeing of local journalists amid a rise in threats and attacks on local media outlets as well as journalist reporting for international media. On July 14, the AIJFA reported that Fazlullah Erfan, the editor-in-chief of Gag-e-Islah radio programs, was seriously injured in an explosion targeting a police vehicle in Jalalabad. The AIJA reported to the IFJ that most journalists left the city during the fighting.
AIJA last week also reported Taliban threats to at least eight media outlets including Badghis National Radio and Television, Private TV Obur, Radio Hanzaleh, Radio Simim, Ghazali Radio, Radio Nariman, and Baghis Voice Radio.  
 IFJ has received a number of appeals for assistance to flee the country as freelance journalists report their lives being in increasing danger and employers failing to act.
In the wake of the Siddiqui's killing, Afghanistan President Mohammad Ashraf Ghani reiterated the country's commitment to freedom of speech and protection of free media and journalists.
Thirty-three journalists were killed in Afghanistan between 2018 and 2021, the United Nations said in a report this year.
Siddiqui is survived by his wife and two young children.
The AIJA said: "We condemn the killing of journalist Danish Siddiqui and express condolence to the family members of Siddiqui and the entire media community. The AIJA is deeply concerned to the killing and injuries on civilians, especially media personnel and calls on the warring parties to prevent explosions and clashes in civilian areas."
 The ANJU said: "Unfortunately the environment for media and journalists in different part of Afghanistan is getting worse day by day. Therefore, local and International media should do their best to protect their journalists and staffers."
 The IFJ General Secretary, Anthony Bellanger, said: "The IFJ is gravely concerned at the situation in Afghanistan for media workers right now and expresses deepest condolences to Danish Siddiqui's family at this terrible time. We call on both the Taliban and the military to respect and ensure the safety of media reporting on the ground."
Written By

IFJ Asia-Pacific
The IFJ represents more than 600,000 journalists in 140 countries.
For further information contact IFJ Asia-Pacific on +61 2 9333 0946
Find the IFJ on Twitter: @ifjasiapacific
Find the IFJ on Facebook: www.facebook.com/IFJAsiaPacific
Comments