Press Statement
Afghanistan: Taliban detains three media workers
02 Jun, 2022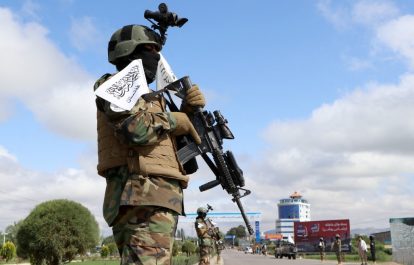 In separate incidents in late-May, Taliban intelligence agencies detained three media workers in Kabul and Herat for their reporting. The International Federation of Journalists (IFJ) condemns the arbitrary detainments and calls for the immediate release of the media workers still in custody.
On May 29, journalist Roman Karimi and his driver, Samiullah, were detained and beaten by a Taliban intelligence agent while covering a women's protest at the Haji Yaqub roundabout in Kabul District 10 for Salam Watandar radio station.
Despite showing his journalist identification card, the agent forced Karimi inside a traffic booth and questioned him. Other officers took the journalists' voice recorder and phone, and reviewed the phone's content, including his social media accounts. When Karimi tried to protest the removal of his personal devices the agent slapped his face.
Karimi and his driver were both detained for seven hours and were eventually released at 5pm on the condition that they would no longer cover protest events.
On May 24, Mirza Hassani, the former owner and editor of Radio Aftab, was detained by Taliban agents at a checkpoint in District 12 of Herat city. Radio Aftab is a local station in the Daikundi province that was shutdown following the Taliban's takeover of Afghanistan in August 2021.
Hassani was transferred to the 12th Directorate of the Taliban's GDI in Herat after agents searched his phone and found news reports posted on his social media. The journalist has reportedly been beaten and tortured while in custody and is accused of working as a reporter for the anti-Taliban militant group, National Resistance Front (NRF), but has not been officially charged. Hassani's family and the Herat's Scholars Council called for his immediate release.
Arbitrary detainments, arrests and attacks on media workers have continued to increase since the Taliban seized control of Afghanistan in 2021. In the latest South Asia Press Freedom report, the IFJ documented 75 media rights violations, including 12 killings and 30 arrests, in Afghanistan from May 2021 to April 2022.An estimated 1,000 journalists have fled the country since last August, with threats, harsh restrictions and economic collapse leading to mass closures of media outlets.
The IFJ said:  "The Taliban must cease its arbitrary arrest and detainment of Afghan journalists and media workers. The escalating number of media rights violations in Afghanistan continue to restrict freedom of the press and freedom of expression. The IFJ urges the Taliban authorities to investigate the detainment of Roman Karimi and his driver, and calls for the immediate release of Mirza Hassani."
Written By

IFJ Asia-Pacific
The IFJ represents more than 600,000 journalists in 140 countries.
For further information contact IFJ Asia-Pacific on +61 2 9333 0946
Find the IFJ on Twitter: @ifjasiapacific
Find the IFJ on Facebook: www.facebook.com/IFJAsiaPacific
Comments