Press Statement
Afghanistan: Taliban releases two Pakistani journalists, one remains missing
30 Aug, 2021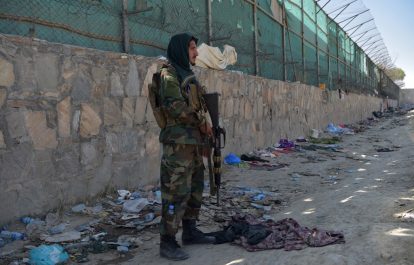 Khyber TV reporter Abdul Mateen Achakzai and cameraperson Muhammad Ali were arrested while reporting in Kandahar city in southern Afghanistan on August 25 and released two days later, while another Pakistani journalist Muhammad Iqbal Mengal remains missing. The International Federation of Journalists (IFJ) and its Pakistan affiliate, the Pakistan Federal Union of Journalists (PFUJ), urge the Pakistan government to find and ensure Mengal's safe release.
Taliban militants detained Pakistan journalists Achakzai and Ali for allegedly not getting the Taliban's approval to report in Afghanistan. The militants confiscated the journalists' phones and interrogated them at an unknown location before releasing them on August 27.
Achakzai's family member has confirmed that both journalists returned home safely to Pakistan. Upon release, Achakzai said, "Initially the Taliban militants misbehaved us while later on, they provided us good food. The delay in release was because of the lack of coordination in various Taliban agencies".
Mengal, a reporter for Pakistan's 92 News group, remains missing and is suspected of being detained by Taliban militants following the Kabul airport bombing on August 26 that claimed the lives of 170 people, including two journalists and 13 US service members. Mengal reported live on television at the bomb site on August 26. According to his family, Mengal's phone has been out of reach since his live coverage. Before Mengal disappeared, he had also been reporting in Kandahar and Herat city.
Achakzai and Ali's arrest and Mengal's disappearance comes a week after Taliban spokesman Zabihullah Mujahid announced the Taliban's support for a free media in Afghanistan during a press conference.
The PFUJ said: "The PFUJ condemn the abduction of Pakistani journalist Muhammad Iqbal Mengal in Kabul and demands the authorities in both the countries to carry out prompt action for his rescue. The abduction of journalists in the line of duty is an international crime. We call upon the International media organizations to play their role for safe rescue of the abducted Pakistani journalists."
The IFJ said: "Arresting, abducting and requiring permission for journalists to report contradicts the core principles of an independent and free press. The IFJ urges the Taliban to ensure media can work without fear of retribution or persecution." 
"The IFJ calls on the Pakistan government and the international community to assist in finding Muhammad Iqbal Mengal and ensure his safety. As the situation in Afghanistan unfolds, the international community and media organisations operating in Afghanistan must take proactive steps to ensure the safety of media workers," the IFJ added.
To support journalists in Afghanistan, donate to the IFJ safety fund.
Written By

IFJ Asia-Pacific
The IFJ represents more than 600,000 journalists in 140 countries.
For further information contact IFJ Asia-Pacific on +61 2 9333 0946
Find the IFJ on Twitter: @ifjasiapacific
Find the IFJ on Facebook: www.facebook.com/IFJAsiaPacific
Comments