Press Statement
Afghanistan: Taliban takes two female journalists off air
20 Aug, 2021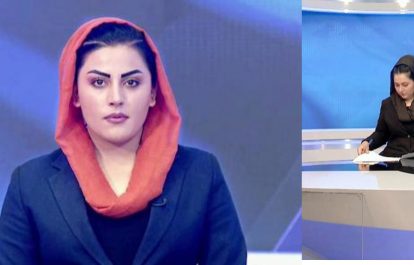 Radio Television Afghanistan (RTA) news anchor Khadija Amin and news presenter Shabnam Dawran were removed from their posts and taken off air by the Taliban on August 15. The International Federation of Journalists (IFJ) remains concerned at the situation now confronting women journalists working in the country under Taliban leadership and the impact on media reporting.
After the Taliban's capture of Kabul on August 15, members of the organisation arrived at RTA where amale Taliban 'official' is understood to have taken the place of Amin as anchor of the network and relayed statements from the organisation's leadership. When Amin returned to the station on August 18, she was instructed by the Taliban member who took over the station to "stay at home for a few more days." He said that she would be informed of when she would be able to return to work.
Amin expressed her deep concerns about the control of the Taliban: "Everything we have achieved for 20 years will be gone. The Taliban is the Taliban. They have not changed."
Shabnam Dawran was also denied entry into the station by Taliban members, who said that the "regime has changed" and that she should leave. Dawran said: "Unfortunately I was not allowed in despite carrying my ID badge. Male workers were allowed but I was threatened."
Dawran called on the international community for help, saying: "Our lives are under serious threat."
A confidential United Nations document says the Taliban is currently intensifying the search for people who have worked with the US and/or NATO forces. The group is said to have a "priority list" of individuals it is looking to arrest. Meanwhile, IFJ affiliates from around the world are continuing to send messages of solidarity and support to their colleagues in Afghanistan at this time.
The IFJ said: "The fear regarding the Taliban's takover of the country is acute. Female media workers have a right to work, but they also must be protected and their safety and security must be assured. The IFJ calls on the international community to ensure that the country does not lose what the past two decades have gained for media freedom."
To help IFJ support journalists in Afghanistan, donate to the IFJ safety fund.
Written By

IFJ Asia-Pacific
The IFJ represents more than 600,000 journalists in 140 countries.
For further information contact IFJ Asia-Pacific on +61 2 9333 0946
Find the IFJ on Twitter: @ifjasiapacific
Find the IFJ on Facebook: www.facebook.com/IFJAsiaPacific
Comments