Press Statement
Afghanistan: Television journalists wounded in deadly Kabul attack
12 Mar, 2020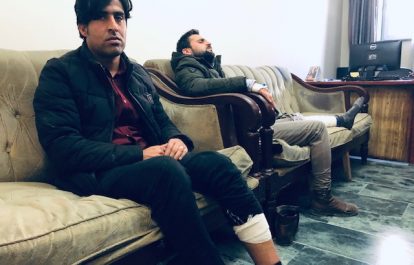 A reporter and a cameraperson for Kabul News TV were wounded when members of the Islamic State attacked a commemorative event in Kabul on March 6.  The International Federation of Journalists (IFJ) and its affiliate the Afghan Independent Journalists' Association (AIJA) condemn the brutal attack. 
Reporter Mansour Nikmal, 30, and cameraperson Najim Sultani, 25, both of Kabul News TV, were wounded when IS gunmen opened fire on a ceremony marking the 25th commemoration of death of Abdul Ali Mazari, an Afghan Shiaa leader killed in 1995 after being taken prisoner by the Taliban.
At least 32 people were killed and another 58 civilians wounded in the grizzly attack. The Islamic State claimed responsibility for the attack, the group's Amaq news agency reported on its telegram channel. Broadcaster Tolo News showed live footage of people running for cover as gunfire was heard.
According to AIJA, many journalists reporting the commemoration ceremony managed to flee safely. Afghan political leader Abdullah Abdullah was present along with other key political figures and escaped unharmed.
"We received injury when the ceiling at the program venue fell down due to the rocket- landing by assailants", Mansour Nikmal said. Both journalists were taken to Alemi Curative hospital Kabul for their treatment.
Afghan defense forces fought the gunmen throughout the day, finally securing the area and killing about three of the gunmen, according to ministry of interior spokesman Nasrat Rahimi.
It was the first major attack in the city since the US reached an agreement with the Afghan Taliban on a phased withdrawal of troops on February 29. But between February 28 and March 5, 88 pro-government forces and 13 civilians were killed in the country. Under the terms of the agreement, the US and its Nato allies will withdraw their troops within 14 months. In return, the Taliban will hold talks with the Afghan government.
AIJA said: "AIJA calls on the assailants not to target civilians and urges security agencies to investigate and prosecute the perpetrators". 
 IFJ said: "Afghanistan is the most dangerous country for media and journalists in South Asia. This is a critical period for the country with the agreed phased withdrawal of US and Nato allied troops and we urge the Afghan government to accord journalists' safety as one of its national priorities going forward.".
Written By

IFJ Asia-Pacific
The IFJ represents more than 600,000 journalists in 140 countries.
For further information contact IFJ Asia-Pacific on +61 2 9333 0946
Find the IFJ on Twitter: @ifjasiapacific
Find the IFJ on Facebook: www.facebook.com/IFJAsiaPacific
Comments