Press Statement
Afghanistan: TOLONews journalists detained by Taliban militants
22 Mar, 2022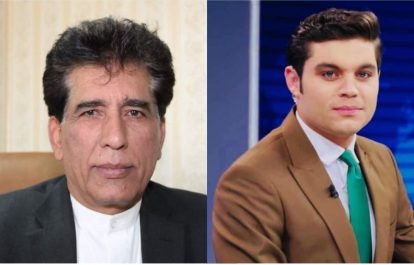 On March 17, Taliban officers arrested TOLONews employees Bahram Aman, Khaplwak Sapai, and Nafay Khaleeq at the news outlet's headquarters in Kabul. The International Federation of Journalists (IFJ) and its Afghan affiliate, the Afghanistan Independent Journalists Association (AIJA), condemn the media workers' arrests and the Taliban's intensifying suppression of press freedom in Afghanistan.
According to the AIJA, at around 8pm on March 17, TOLONews presenter Bahram Aman, correspondent Khaplwak Safi, and the channel's legal advisor Nafay Khaleeq, were arrested by Taliban security forces inside the media outlet's headquarters in Kabul before being transferred to an unknown location.
Former director of TOLONews, Lotfullah Najafizada, said that Sapai and Khaleeq were released within hours of their detainment after being questioned by Taliban militants. Aman was detained overnight and released on March 18, after 21 hours in custody.
"After almost 24 hours, I was released from prison. I will always be the voice of the people," Aman said in a Facebook post following his release.
According to Moby Group, the media company who owns TOLO TV, the detentions were reportedly the result of the station's coverage of the Taliban's ban on foreign drama series.
The arrests of Aman, Sapai, and the TOLOnews legal advisor are the latest in a series of attacks on Afghanistan's media. According to the AIJA, 40 journalists have been temporarily detained since the beginning of the Taliban regime in mid-August 2021.
On January 31, Taliban militants arrested Ariana News journalists Aslam Hijab and Waris Hasrat. On January 15, the Taliban attacked journalist Jaki Qais, and on January 10, Afghan journalist Noor Mohammad Hashemi, deputy director of Salam Afghanistan Media Organisation, was shot at by three unidentified men.
Hujatullah Mujadidi, Executive Director of the AIJA, condemned the arrests and said that the only way to prevent the illegal detainment of journalists and media workers is to enforce Afghanistan's media law and establish a commission to investigate media violations.
The AIJA said: "The detention of a journalist for any reason is not justifiable. Whenever the authorities in the system are not committed to ending this situation, and do not prevent such illegal actions, the process of freedom of expression will be severely damaged and it will present a harsh and bad image of Afghanistan to the international community." 
The IFJ said: "The arrests of TOLONews employees Bahram Aman, Khaplwak Sapai and Nafay Khaleeq are further evidence of the Taliban's silencing of critical reportage and blatant disregard for press freedom. The IFJ urges the Taliban to allow Afghanistan's media to function independently and to immediately cease the unjustified detainment of journalists and media workers." 
Comments