Press Statement
Afghanistan: Two detained amid rising attacks on Afghan media under Taliban rule
20 Apr, 2022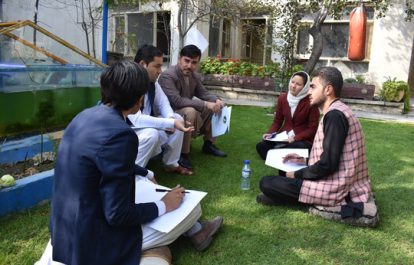 Television presenter Moheb Jalili was beaten and abducted by Taliban militants on April 17 and reporter Reza Shahir was detained by the Taliban on April 19, in the latest of a series of attacks to press freedom in Afghanistan. The International Federation of Journalists (IFJ) condemns the arrests of the two journalists and calls on the Taliban to cease its escalating persecution of Afghan media workers.
Moheb Jalili, a presenter for independent station 1 TV and former head of Ariana News, was abducted and tortured by the Taliban Intelligence Service in Kabul's District 15 on April 16.
In an interview with Hasht-e-Subh, an independent newspaper in Afghanistan, the journalist claimed that Taliban officials gave no clear reason for his detention. According to the Afghanistan Journalists Centre, Jalili was returning home on Saturday night when Taliban Intelligence officers stopped his car and arrested him, accusing the journalist of "reporting false news".
The day of Jalili's arrest, Jamshi Ahamad Ahmadi, manager of Rasa TV, was also shot and wounded by unidentified assailants in Kabul. The reason for the attack remains unclear.
In a similar incident, Reza Shahir, a reporter for Kabul radio and television network Rah-e-Farda, was beaten and arrested by Taliban militants on April 19 while attempting to cover a bombing at the Abdul Rahim Shahid school in western Kabul.
According to Shahir, Taliban forces accused him and his colleague of being "complicit in organizing the attack", seizing his camera and mobile phone. The journalist was held inside a room where he was severely beaten before his eventual release two hours later.
The arrests of Jalili and Shahir are the latest attacks on journalists by Taliban militants in Afghanistan. On March 17, Taliban officers arrested TOLONews employees Bahram Aman, Khaplwak Sapai, and Nafay Khaleeq at the news outlet's headquarters in Kabul.
The IFJ said: "Arrests, harassment, and attacks on journalists and media workers continue to rise in Afghanistan under Taliban rule. The IFJ calls for the immediate release of Moheb Jalili and Reza Shahir and an end to the arbitrary persecution of independent journalism in Afghanistan, intended to quash press freedom."
Written By

IFJ Asia-Pacific
The IFJ represents more than 600,000 journalists in 140 countries.
For further information contact IFJ Asia-Pacific on +61 2 9333 0946
Find the IFJ on Twitter: @ifjasiapacific
Find the IFJ on Facebook: www.facebook.com/IFJAsiaPacific
Comments