Afghanistan
Afghanistan: 'We Had to Choose Between Life and Death'
21 Jan, 2022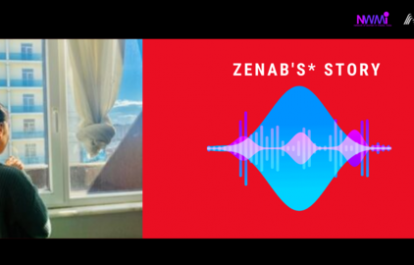 Transcript from a recording of Zenab*, a 25-year old reporter and presenter with Afghanistan International Radio and TV. After Afghanistan fell to the Taliban, she left for Turkey with three family members. Others in her family are still in Kabul, and they have lost their jobs. She continues to work but finds her income is not enough to support her family. This transcript has been excerpted from "In their Own Words: Afghan Women Journalists Speak", a report by the International Federation of Journalists and the Network of Women in Media, India, supported by Norsk Journalistlag.
"I am an Afghanistani female journalist. My country was a place where women were all silent. My mother used to tell me from childhood that you should be a journalist. My mother had been a victim of domestic violence for years. But no one ever found out about her. Like my mother, thousands of other women did not express their pain. We needed female journalists in our country to inform the world about the situation of women in Afghanistan.
I decided to become a journalist even though I know that journalism is a crime in my country. Especially, becoming a TV presenter is a bigger crime. But I accepted all the problems and become a journalist by struggle. I started my career in radio and became the voice of freedom of expression and the voice of women. Later I went to television and became the host of a daily famous television programme.
In my programme, I invited active women- doctors, teachers, journalists, human rights activists, human civil rights activists. And I encouraged other women to be literate like this. To say no to violence. And to fight, not to give up. We created a team of female journalists to work against the perpetrators and enemies of freedom of expression. We lost many of our colleagues in freedom of expression and journalism.
Our media was repeatedly threatened by the Taliban before the fall of Kabul. And several of my colleagues were killed by the Taliban attacks. Until the Taliban took over Afghanistan, we continued to fight. But we realised we had to choose between life and death. And I had to run away. I had to run away leaving Kabul without my family… I wish to be with my family again… To hug my mother and father again. To play with my …again. I want to work again and be a journalist.
I wish my country would be released from captivity. I want peace for my people. I want peace for my country. We are human. Like other countries, like other people. Why we don't have peace? Why we can't live in our country? I wish one day we can go to our country again, and we live together again. And be a journalist. For our country, and for our people again. Sorry and thank you."
This excerpt was originally published by the Network of Women in Media, India, from the IFJ and NWMI's joint report, 'In Their Own Words: Afghan Women Journalists Speak', supported by Norsk Journalistlag. Read the full report here.
*Name changed for safety reasons.
Written By

IFJ Asia-Pacific
The IFJ represents more than 600,000 journalists in 140 countries.
For further information contact IFJ Asia-Pacific on +61 2 9333 0946
Find the IFJ on Twitter: @ifjasiapacific
Find the IFJ on Facebook: www.facebook.com/IFJAsiaPacific
Comments