Press Statement
Afghanistan: Zohra Radio vandalized
19 Jan, 2021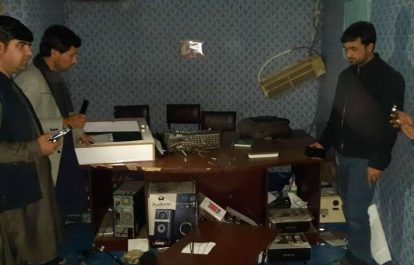 A mob of nearly a dozen people led by the imam of a local mosque attacked Zohra Radio in north eastern Kunduz province on January 15 damaging the radio's equipment and vandalizing the office. The International Federation of journalists (IFJ) and its affiliate the Afghan Independent Journalists' Association (AIJA) condemn the attack and urge the Afghan government to investigate the case.
 According to Mohsen Ahmad, the director of the Zohra Radio, the Imam of Firooz Kohi Mosque directed a crowd to attack the radio station at around 13:30 pm accusing the station for playing the music and songs that disturbed Friday prayer. Ahmad said the mosque followers vandalized the station even without knowing the source of the music that affected the prayer session. Due to the damage of the equipment, Radio Zohra's transmission was halted for several hours.
According to AIJA, the angry crowd also attempted to attack Radio Kaihan and Radio Chiragh but were prevented and stopped by security forces as they attempted to enter into the radio stations.  Zohra Radio is planning to file case against the perpetrators. Meanwhile, Afghan Journalists Safety Committee and Afghanistan Ministry of Information and Culture issued statements condemning the attack.
From January 2020, 11 media workers were murdered in Afghanistan including one on January 1, 2021. Attacks on journalists, threats from militant groups, gender-based violence against women journalists, government controls on information have also been documented, according to AIJA.
The AIJA said: "The attack to the Zohra radio indicates that media in Afghanistan are unsafe not only from militant groups but also from different interest groups. AIJA demands the Afghanistan government to end the culture of impunity on crime against journalists."
 The IFJ said: "The safety situation for journalists in Afghanistan must be a major priority for the Afghanistan government."
Written By

IFJ Asia-Pacific
The IFJ represents more than 600,000 journalists in 140 countries.
For further information contact IFJ Asia-Pacific on +61 2 9333 0946
Find the IFJ on Twitter: @ifjasiapacific
Find the IFJ on Facebook: www.facebook.com/IFJAsiaPacific
Comments