Activities
Afghanistan's women journalists on the frontline
18 Feb, 2015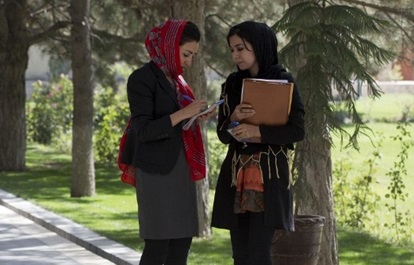 There's an issue with Afghanistan's newsrooms  when it comes to women journalists' safety. Men must be part of the solution, writes Dilrukshi Handunnetti
"You want to discuss journalists' security? Then we should have security forces personnel attending gender safety workshops along with male colleagues," was the spontaneous response of a Kabul-based woman journalist, while discussing safety of women journalists in Afghanistan.
The scars of what Afghanistan had experienced in terms of violence were visible when 25 Afghan journalists shared their experiences of violence and conflict and reflected on how such conditioning trickled into newsrooms and influenced media content.
"In Afghanistan, some of the safety and security issues of women journalists are linked, to an extent, to what we have experienced in the past decade or so," a senior woman journalist noted, adding that newsroom culture, attitudes towards women and social acceptance of women's capacity were also influenced by such conditions, besides patriarchal values that placed women within a certain stereotypical frame, with their role defined by religion and culture.
"The concept of gender equity is not generally accepted and this is reflected in the newsrooms as well," another young woman participant said, insisting it was time to "move beyond the stereotypes".
There was collective agreement that Afghan journalists had little opportunity to enhance their understanding on issues connected to gender and safety despite their relevance.
"Who would pause to discuss gender or the wish to mainstream gender, when we are consistently fighting stereotypes in our everyday life? Media is obsessed with conflict and politics and Afghanistan is an international story and that story dictates headlines. So, where is the space or even the need to discuss issues of gender and security?" another queried.
The gender safety workshop for senior journalists and media managers was refreshingly different as it brought together highly motivated journalists; men and women; senior and junior to discuss the issues they face.
While women raised issues concerning gender-based discrimination by employers, sexual harassment in the workplace and general lack of facilitation, men shared their ideas on how to improve the situation for women colleagues through practical measures.
Not surprisingly, the women identified the prevalence of sexual harassment as a key reason for women's reluctance to enter the field of journalism. This was also their explanation for women journalists accounting for only one tenth of accredited journalists in Afghanistan. They also felt strongly about the absence of in-house policies and mechanisms that could make women more comfortable in their workplaces.
"We would like to see strong female role models emerging in newsrooms and consider it important that male colleagues create conditions to influence positive change so that more women can enter journalism and build strong careers," a Kabul-based editor said. He acknowledged that in a conservative culture, women journalists found it difficult to climb the ladder and the few who did had to deal with gender-based discrimination and/or sexual harassment.
While male participants felt sexual harassment and lack of recognition for women professionals should be addressed through institutional mechanisms that promote equity, the female contingent opined that such changes would inevitably take considerable time. They wanted action now and the first step should be to create awareness and to lobby owners and managements of media houses. They also felt collective action could be a strong vehicle to achieving their objective besides being a useful tool in creating "women-friendly newsrooms".
"A strong union for women journalists could address some concerns, especially relating to issues of equity, job security, opportunities for career advancement and safety in workplace," one noted.
In the workshop there was consensus that, outside a vocal minority, sexual harassment in the workplace was less discussed with more women preferring to maintain silence to avoid being penalized.
"There had been instances where the victims have been victimized also by the system, perpetrators were protected by the media houses," a senior journalist noted, highlighting the need for in-house sexual harassment policies and gender committees to address such issues.
"We should encourage women to speak out. It can be empowering," a young male participant noted. "At least when we reach senior positions, we must ensure there are inclusive newsrooms where women are not made to feel weak and inadequate."
The gender safety workshop in Kabul, Afghanistan, was held on 3-4 November 2014 and was organized by the Afghanistan Independent Journalists' Association (AIJA), with the support of International Federation of Journalists (IFJ). The IFJ's work in Afghanistan comes under the South Asia Media Solidarity Network (SAMSN) and was supported by the Royal Norwegian Ministry of Foreign Affairs and UNDEF.
Dilrukshi Handunnetti is a Sri Lankan journalist and activist and a regional gender coordinator for the SAMSN network.
Written By
Comments