Press Statement
Asia Pacific: Federation of Asia Pacific journalists formed at IFJ Congress
02 Jun, 2022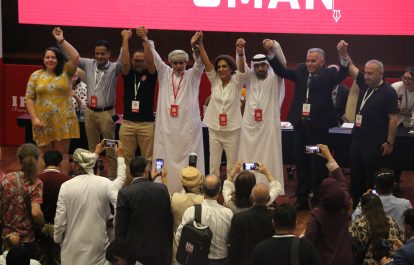 IFJ delegates from the Asia Pacific region formed a new regional group, the Federation of Asia-Pacific Journalists (FAPaJ), on May 31, during the IFJ's triennial World Congress in Muscat, Oman. The International Federation of Journalists (IFJ) welcomes the formation of the new federation and congratulates the newly elected Executive Committee.
The FAPaJ becomes the fourth IFJ regional group after the European Federation of Journalists (EFJ), the Federation of African Journalists (FAJ) and the Federación de Periodistas de América Latina y el Caribe (FEPALC) and comprises representatives from the Pacific, Western Asia, Eastern Asia, Southern Asia and Central Asia.
Sabina Inderjit, General-Secretary of the India Journalists Union (IJU) and IFJ Vice President, was elected as the first FAPaJ president. Salem Al Jahwari was elected as FAPaJ Vice President unopposed, with Mousa Abdul Nour, Ali Yousef, Mohammad Alhammadi, Leigh Tonkin, Jonathan De Santos and Badri Sigdel elected as members of the Executive Committee.
The new federation adopted several resolutions, including voting unanimously to condemn the increasing assaults on the press in countries in the region including Afghanistan, Nepal, India, Myanmar and Hong Kong, and calling for increased monitoring of the arrests and trials of journalists and other press freedom violations.
The FAPaJ committed to protect the right to free speech, to strengthen free expression online and fight against laws which lead to internet shutdowns. Delegates also moved to condemn the killing of Palestinian journalist Shiren Abu Aqla, who was killed while covering Israeli army raids in the city of Jenin.
The 31st World Congress of the International Federation of Journalists is currently taking place from May 31 until June 3 in Muscat, Oman. Over 250 participants representing journalists' unions and associations from 92 countries will attend the Congress, with key themes including the surveillance of journalists and action to end impunity for crimes against media workers.
IFJ General Secretary, Anthony Bellanger, said: "The IFJ has a strong history of international journalist federations across the world. The Asia Pacific region was the missing piece. We hope the Federation of Asia Pacific Journalists (FAPaJ) will be a strong platform for journalists and media workers in this diverse and important region."
Written By

IFJ Asia-Pacific
The IFJ represents more than 600,000 journalists in 140 countries.
For further information contact IFJ Asia-Pacific on +61 2 9333 0946
Find the IFJ on Twitter: @ifjasiapacific
Find the IFJ on Facebook: www.facebook.com/IFJAsiaPacific
Comments