Press Statement
Asia-Pacific: IFJ report calls for greater fact-checking support to combat misinformation
31 Mar, 2023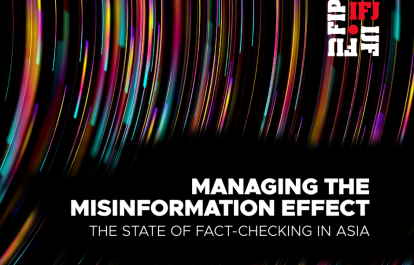 A new report released today by the International Federation of Journalists (IFJ) calls for greater support and recognition for fact-checking efforts in Asia amid rising misinformation online and in social media. Launched ahead of International Fact-Checking Day on April 2, the report explores the state of fact-checking initiatives in five countries in the region, where religious and ethnic divisions, social polarisation, authoritarian politics, partisan media, and low media literacy create fertile breeding grounds for misinformation.
 In launching, 'Managing the Misinformation Effect – The State of Fact-Checking in Asia', the IFJ also highlighted the safety risks, challenges, and concerns faced by the increasing ranks of fact-checkers and how the critical and most successful fact-checking endeavours work with and alongside journalists in helping to rebuild public trust in media.
The IFJ said: "Fact-checking is a strong ally for journalists on the frontline of the war against misinformation. And although fact-checking requires a specialised skillset, many of these skills, especially verification, are very similar to journalistic procedures."
The report focuses on fact-checking efforts in Indonesia, India, Nepal, Bangladesh, and Sri Lanka, outlining the misinformation landscape and fact-checking strengths and achievements, as well as challenges and ways forward. Written by fact-checking experts from each of the countries highlighted, each country report outlines the immense potential of collaboration between fact-checking groups and media outlets, education sectors, governmental bodies, and journalists and media workers' unions and associations, among other media stakeholders.
With the legitimisation of fact-checking work over the past decade, the IFJ said the report explores how fact-checkers have proven to be successful in dispelling lies, rumours, and disinformation over critical election periods and through ongoing public health crises, including the Covid-19 pandemic. International funding support and investment in the sector and the evolution of organisations such as the International Fact-Checking Network (IFCN) have helped raise the profile of the industry and enhance its legitimacy as a critical craft in the war against misinformation and disinformation, it said.
Among its recommendations, the IFJ said mainstream media houses should integrate fact-checking into standard journalistic protocols and rapidly correct their own mistakes and that fact-checks "should sit high on daily news agendas".
 The report marks a progressive step by the IFJ in Asia to engage with this growing industry and its ranks of workers. The work was co-funded with the support of the European Commission and the Norsk Journalistlag and is part of a collaboration with Internews through the joint project, Stronger media Through Enhanced Freedom of Expression and Right to Information.
The report, produced with the support of Internews and Norsk Journalistlag, marks a progressive step by the IFJ in Asia to engage with this growing industry and its ranks of workers.
While exploring the achievements of fact-checking initiatives, the fact-check report authors also outlined significant challenges in establishing and conducting fact-checking efforts, with the practical concerns of funding and sustainability and also ensuring language diversity in building the effectiveness of monitoring system mechanisms.
Key IFJ findings and recommendations:
Fact-checking is vital in defending democracy by fighting misinformation, encouraging media literacy, and restoring public trust in independent media. All stakeholders, including media outlets, journalists, unions, educators, funders, donors, and fact-checkers themselves, have a role to play in this endeavour.
Media outlets and journalists should support independent fact-checking institutions and the expanding network of fact-checkers regionally and globally.
Media operations should also consider providing fact-checking skills workshops and training to all journalists and media workers to help mitigate the chances of unintentionally publishing misinformation in media reporting.
Fact-checking organisations should protect fact-checkers from any threat to their physical and mental health, including defamation, harassment, abuse, and vicarious trauma.
Social media platforms should ensure that fact-checks are given the same level of visibility as the online misinformation they seek to correct.
Journalist unions should explore and expand efforts to support and represent fact-checkers' "rights to publish" and express solidarity with them by acceptance of their participation as media workers.
Funders and donors should continue to support fact-checking initiatives by supporting their training, start-up, and sustainability programs.
Fact-checking initiatives should consider looking beyond short-term funding models to ensure long-term viability and sustainability.
Fact-checking initiatives should expand their reach to improve media literacy and actively seek support from media outlets, civil society, and human rights defenders in publishing their findings.
Universities and schools should teach skills in critical reading of official information, mass media, and social media to encourage media literacy.
A full list of recommendations is included in the report, available here.
The IFJ said: "Fact-checking groups need stability and longevity, built on reliable funding and solid organisational foundations. They also need to look inward and protect their fact-checkers from harm, with an awareness of the threats to their physical safety and mental health that this type of work can entail."
Written By

IFJ Asia-Pacific
The IFJ represents more than 600,000 journalists in 140 countries.
For further information contact IFJ Asia-Pacific on +61 2 9333 0946
Find the IFJ on Twitter: @ifjasiapacific
Find the IFJ on Facebook: www.facebook.com/IFJAsiaPacific
Comments