Press Statement
Asia Pacific: Region second deadliest globally on IFJ Killed List
12 Dec, 2022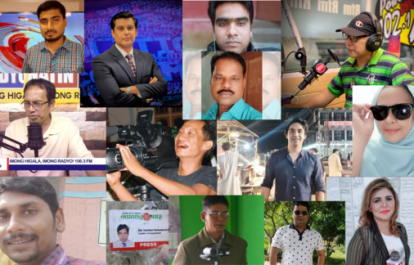 The IFJ recorded the killings of 67 journalists to date in 2022 in the IFJ's annual Killed List, an increase of 20 journalists from 2021. Of those fatalities, 16 were from the Asia Pacific region, the second highest total worldwide behind the Americas with 29 targeted killings. The remaining deaths were in Europe, which recorded 13 killings, the Middle East, with five, and Africa with four.
Of the sixteen deaths in the Asia Pacific, six were from Pakistan, two from India, three from Bangladesh, four from the Philippines and one from Myanmar. The annual list reports a decrease in regional incidents from 21 fatalities in 2021. Afghanistan, formerly Asia Pacific's deadliest nation for media practitioners experienced a dramatic decrease from ten fatalities in 2021 to zero in 2022.
Ongoing attacks against media workers in Pakistan amid political crisis resulted in the deaths of six Pakistani journalists. Journalists Muhammad Younis, Zia-Ur-Rehman Farooqi, Hasnain Shah, and Iftikhar Ahmed were all victims of gun violence, while Channel 5 journalist Sadaf Naeem was crushed beneath a container while covering a political rally in Lahore on November 1.
After fleeing Pakistan due to legal threats, veteran journalist Arshad Sharif was killed by Kenyan General Service Unit officers outside Nairobi on October 23. A recent report by a Pakistani investigative team concluded that his killing was a targeted assassination, allegedly involving transnational individuals. His killing has inspired action against impunity from IFJ affiliate the Pakistan Federal Union of Journalists.
Despite the election of President Bongbong Marcos in June 2022, journalists in the Philippines saw no respite with Jhannah Villegas, Federico 'Ding' Gempesaw, Rey Blanco and Percival 'Percy Lapid' Mabasa all falling victim to targeted assassinations for their independent or critical reporting. In November, the head of the Philippines' prison system was charged with orchestrating Mabasa's killing.
The IFJ also found that at least 375 journalists and media workers are currently behind bars, a new high since the IFJ began publishing an annual jailed list two years ago. China and its allies in Hong Kong top the list with 84 journalists in jail, followed by Myanmar (64), Turkey (51), Iran (34), Belarus (33), Egypt (23), Russia and occupied Crimea (29), Saudi Arabia (11), Yemen (10), Syria (9) and India (7).
Alongside Hong Kong's crackdown on the media under Beijing's national security law, Myanmar's ongoing repression of independent journalists following the February 2021 military coup resulted in a dramatic increase in imprisonments. Myanmar's one verifiable death came from abuse suffered in custody, with photographer and activist Aye Kyaw declared dead after a ten-hour detention. The IFJ details the ongoing legal and economic challenges facing Burmese journalists in Myanmar and in exile in a recently released report, The Revolution Will Not Be Broadcast – Myanmar: IFJ Situation Report 2022.
IFJ said: "Journalists and media workers in the Asia-Pacific region continue to face deadly attacks in alarming numbers, the second highest total worldwide. Governments must act to take immediate and tangible measures to prevent impunity for crimes against journalists and ensure the safety and security of all media workers in the field. The IFJ calls on the UN General Assembly to pass the IFJ Convention on the Safety and Independence of Journalists and achieve justice for those who have lost their lives."
Written By

IFJ Asia-Pacific
The IFJ represents more than 600,000 journalists in 140 countries.
For further information contact IFJ Asia-Pacific on +61 2 9333 0946
Find the IFJ on Twitter: @ifjasiapacific
Find the IFJ on Facebook: www.facebook.com/IFJAsiaPacific
Comments