Press Statement
Asia-Pacific Unions make firm steps towards making gender equity a reality
30 Nov, 2016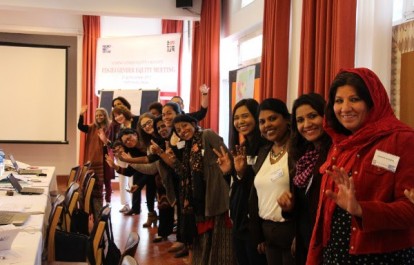 "Change has to come from within unions in order to make a real impact in the wider media environment", said women journalists and activists from Afghanistan, Bhutan, Bangladesh, Cambodia, India, Indonesia, Myanmar, Malaysia, Mongolia, Nepal, Pakistan, Sri Lanka, the Philippines and Vanuatu at the IFJ-FES Gender Equity Forum in Kathmandu, Nepal.
The International Federation of Journalists (IFJ) and Friedrich Ebert Stiftung (FES), together with the South Asia Media Solidarity Network (SAMSN) and South East Asia Journalist Unions (SEAJU), held a gathering of women from across the Asia Pacific's media in Kathmandu, Nepal, on November 20 and 21. Journalists and activists met to evolve strategies aimed at enhancing women's experience of working in the media and also through the unions that represent them.
The meeting was an outcome and follow-through action of the 2015 IFJ-UNESCO research Inside the News: Challenges and Aspirations of Women Journalists in Asia and the Pacific and set about providing expanded action on addressing gender inequities in media.
At the gathering, IFJ affiliates agreed that unions must lead and make gender equity a priority in future union strategies and endorsed significant work being done by women and men to bring about significant change, including setting measurable targets and calling on unions to demonstrate genuine commitment to gender equity through real policy change.
Delegates workshopped campaigns and strategies on increasing the percentage of women in leadership and decision-making positions of media trade union organizations; the adoption of gender policies and/or amendments to constitutions to incorporate gender equity principles by affiliates and to increase the overall proportion of female trade union members.
IFJ AP program director, Jane Worthington, said: "We know there are incredible best practices from the region that are making a difference for journalists at work. The aim of a regional strategy is to create joint action on gender equity and to create a watch card on progress."
The meeting also addressed the critical need to explore challenges and opportunities in the digital space and brainstormed about how to effectively and creatively combat online harassment of women journalists.
The resolution 'Towards Inclusion and Amplifying Women's Voices' adopted at the meeting was endorsed at the larger IFJ Strategy Meeting on November 23-24, 2016. See the resolution here.
Written By

IFJ Asia-Pacific
The IFJ represents more than 600,000 journalists in 140 countries.
For further information contact IFJ Asia-Pacific on +61 2 9333 0946
Find the IFJ on Twitter: @ifjasiapacific
Find the IFJ on Facebook: www.facebook.com/IFJAsiaPacific
Comments