Press Statement
Attack on radio station in Afghanistan kills two journalists
12 Feb, 2019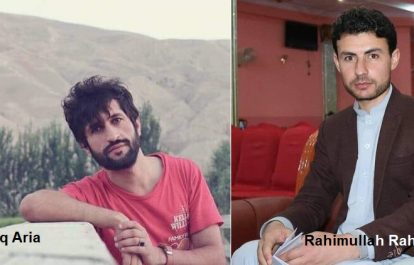 In an attack on the offices of Radio Hamsada in Telagan, Afghanistan, on February 6, two journalists were killed. The International Federation of Journalists (IFJ) joins its affiliate the Afghanistan Independent Journalists Association (AIJA) in condemning this brutal murder and  demand for a throughout investigation to bring those responsible to justice.
The two victims of the attack were Shafiq Areya, a reporter, and Rahimullah, the presenter of a social program. Both were in their 20s and died on the spot. Simin Hussaini, the editor of Hamsada Radio Station, confirmed to the AIJA that they did not receive any threat before the attack.
"This was a targeted attack on the Radio Hamsada," said Hosaini. She told media that around 6 pm, two unidentified gunmen, who entered the building using commercial advertisement as an excuse, shot and killed both journalists. Any group or individual has claimed of responsibility for the attack.
A security official, who serves in Investigation Committee of Cases related to Journalist and Media within the Ministry of Interior Affirms, told AIJA that police had arrested four suspected people so far, including two employees of the radio station, and confirmed that "further efforts were underway to arrest other perpetrators".
According to the In the Shadow of Violence report, the IFJ's 2018 killed list report, Afghanistan was the deadliest country for journalists in the world during last year.
IFJ General Secretary, Anthony Bellanger, said: "The reigning impunity for those committing crimes against journalists and the government's lack of concrete action to protect journalists are key causes of increased violence against journalists in Afghanistan. It's time to end for crimes against journalists. We urge the Afghan government to take drastic measures to ensure the safety of journalists and justice to slain journalists."
Written By

IFJ Asia-Pacific
The IFJ represents more than 600,000 journalists in 140 countries.
For further information contact IFJ Asia-Pacific on +61 2 9333 0946
Find the IFJ on Twitter: @ifjasiapacific
Find the IFJ on Facebook: www.facebook.com/IFJAsiaPacific
Comments