Press Statement
Attacks and arrests of journalists ahead of local elections in Nepal
12 May, 2017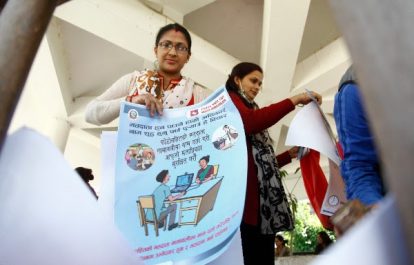 The International Federation of Journalists (IFJ) joins its affiliate the Federation of Nepali Journalists (FNJ) in expressing concern over incidents of violation of journalists' rights ahead of elections to local bodies. The IFJ urges the Nepal government to take action against those responsible and ensure safety for journalists and the media.
Tilak Adhikari, editor of Janata Jindabad weekly, was arrested from his residence in Makwanpur district on May 11 and Thakur Prasad Timalsina and Gambhir Pathak, FNJ members in Kathmandu district, were arrested on May 10. In Parbat district, journalist Gopal GC of Nabadristi Online was arrested on May 4 and Pustaman Gharti was arrested on May 8 in Rolpa district. Hari Bishnu Oli, editor of Sikhchya Sanjal weekly, was arrested on May 2 in Rukum district.
Photojournalist Ajay Desar was attacked by unidentified people on April 24 in Nakhipot, Lalitpur and his camera was damaged. Police is yet to initiate investigation in the case. In Nuwakot district, journalist Dev Chandra Bhatta was harassed by patrolling police for taking photographs.
Similarly, Anjaan Dahal of online portal Filmykhabar was threatened over news by an unidentified person on May 6. The caller expressed dissatisfaction over news written by Dahal and threatened him with action if the news was not removed. In another incident, Shivahari Ghimire of Nagarik daily, received a threat on May 6 over news of illegal deforestation. The president of the Saraswati Community Forest Conservation Committee and an official at the District Forest Office in Lalitpur threatened Ghimire over the phone.
The FNJ said: "The FNJ urges all concerned not to obstruct journalists and media in fulfilling their professional duty at the sensitive time of the local level election." The FNJ has also urged the government to ensure investigation in to the incidents of press freedom violations.
The IFJ said: "The IFJ is concerned about the growing number of incidents of press freedom violations ahead of May 14, when three among seven provinces of Nepal are voting in the local level elections. The IFJ urges the Nepal government to probe the incidents and also to institute proper security measures around the polling day to ensure that journalists can freely report."
Photo: Women prepare materials ahead of local elections in Nepal on Sunday. Credit: Photojournalists' Club Nepal
Written By

IFJ Asia-Pacific
The IFJ represents more than 600,000 journalists in 140 countries.
For further information contact IFJ Asia-Pacific on +61 2 9333 0946
Find the IFJ on Twitter: @ifjasiapacific
Find the IFJ on Facebook: www.facebook.com/IFJAsiaPacific
Comments