Press Statement
Baloch media activist shot dead in Karachi
28 Apr, 2015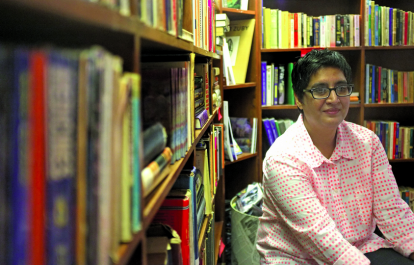 The International Federation of Journalists (IFJ) condemns the brutal murder of a Pakistani media and human rights activist in Karachi on Friday, April 24. The IFJ calls on the Pakistani government to take immediate action to ensure these culprits are brought the justice.
Sabeen Mahmud, a renowned media and human rights activist was shot dead on Friday as she left an event at her café and art space, T2F in Karachi. T2F had become a mainstay for Karachi activists since it opened in 2007. She was shot four times and her mother who was with her was shot twice when their car was attacked. Mahmud and her mother were taken to the National Medical Centre, but at 9.40pm Mahmud was declared dead. Her mother remains in hospital.
Mahmud was hosting the event, 'Unsilencing Balochistan' at T2F prior to the attack. The event was a discussion by prominent Baloch rights activists including, Mama Qadeer, Farzana Majeed and Muhammad Ali Talpur on Balochistan's 'disappeared', which refers to those abducted and their bodies found years later.
Two weeks ago, a similar talk with the same speakers scheduled at the Lahore University of Management Science (LUMS) was cancelled at the last minute "on orders from the government", according to LUMS statement. Prior to the event, Mahmud has voiced her concerns over safety to a colleague, however she decided to go ahead with the event.
The IFJ Asia Pacific office said: "The murder of Sabeen Mahmud is a blatant attack on freedom of expression and an attempt to silence critics. Mahmud was murdered for giving a voice to those who had lost theirs. She was renowned for her vocal lead on human rights issues and for this she has lost her life."
Pakistan remains the deadliest country for journalists across the world. In 2014, 14 media workers were killed, four of which came from Balochistan. Violence across Pakistan continues to be a huge safety concern for journalists, coming from state and non-state actors.
Written By

IFJ Asia-Pacific
The IFJ represents more than 600,000 journalists in 140 countries.
For further information contact IFJ Asia-Pacific on +61 2 9333 0946
Find the IFJ on Twitter: @ifjasiapacific
Find the IFJ on Facebook: www.facebook.com/IFJAsiaPacific
Comments