Resources
Balochistan, Pakistan: Cemetery for Journalists
03 May, 2015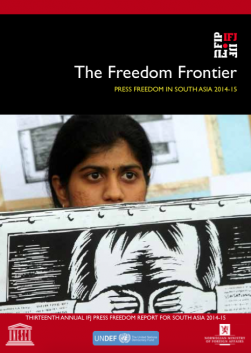 Over the last two decades independent journalism has been difficult in most parts of Pakistan but reporting from Balochistan has been particularly challenging due to multiple threats from various quarters – Baloch nationalists and separatists as well as security and intelligence agencies.
Background
Balochistan, the largest of four provinces with an area of 350,000 sq km makes up 44 percent of the total area of Pakistan, but houses only five percent of the country's people. Its population of 6.5 million (excluding two million Afghan refugees) is made up of various ethnic groups such as the Baloch, Pashtuns, Brahuis, Hazaras, Sindhis, Punjabis, Uzbeks and Turkmens.
This resource rich but poverty-stricken and under-developed province has been in the throes of a conflict ever since the birth of Pakistan in 1947. A variety of militant groups have been at the forefront of the struggle that has seen brutal suppression by the State. The demands of these groups range from increased autonomy and higher percentage of royalties from natural resources to more substantial allocation in the provincial budget. Some militant groups also demand complete independence in the shape of a separate Balochistan. Separatist groups currently operating in the province are the popular Baloch Liberation Army (BLA); the Bloch Liberation Front (BLF); Bloch Republic Army (BRA); United Bloch Army (UBA); United Bloch Liberation Army (UBLA) and Lashkar-e-Balochistan (LB). Other sectarian groups such as the Lashkar-e-Jhangvi also have a significant presence in Balochistan, targeting mainly the minorimaty Shia community.
"There is no journalism in Balochistan. Both the state and non-state actors want to take over the media." – Shahzada Zulfiqar (Former President, Quetta Press Club)
Media context
A total of 148 national and regional newspapers are published in the province and almost all television news channels have offices in the provincial capital Quetta and correspondents in rest of the Balochistan. These media outlets employ about 1010 journalists across the 32 districts of Balochistan, with 200 of them working in Quetta. There are only 15 working women journalists, five of whom work in Quetta. The press club network in the province is widespread, with more than one press club in each district. The Quetta Press Club has a membership of 130 and almost all journalists in Balochistan (1000) are members of a press club. About 400 journalists are members of the Pakistan Federal Union of Journalists (PFUJ).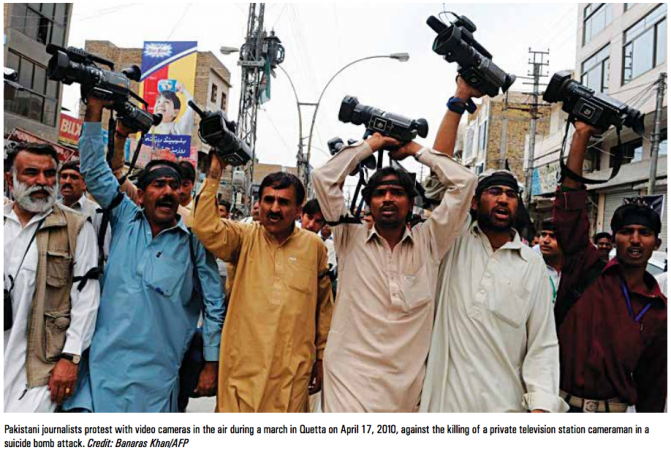 Abducted, killed, disappeared
The toll of those killed in the line of duty since 2008 is tragic (See Table). The year 2015 has not seen the killing of a media worker, which may be because of the high level of self-censorship now apparent in the region. Harassment and clouds of fear are thick in the province which has witnessed five separatist movements since Independence. With tribal feuds rife, it is often difficult to identify the exact motive or the real perpetrators of killings and abductions when they happen.
A spate of targeted killings started in 2008 when Chishti Mujahid, a reporter associated with the weekly Urdu Akhbar-e-Jehan ('Newspaper of the World') was killed by unknown armed assassins in Quetta. The Baloch Liberation Army (BLA) later claimed responsibility for the murder. Other journalist killings followed, mostly by separatist groups who found their writings "objectionable" and often occurred after militants warned journalists against taking any "pro-Pakistan" stance in their writing or attending Independence Day ceremonies.
Abducting journalists in 2009 and 2010 was rife. Riaz Mengal of the Balochistan Times was abducted after he wrote about the issue of land grabbers in Khuzdar. He managed to escape after three months in captivity. Others, however, were not as fortunate. Illyas Nazar, a reporter for the daily Tawar was kidnapped from Mustong and his bullet-ridden body was recovered on January 3, 2011.
Wali Khan Babar, a reporter of Geo TV, was killed on January 13, 2011 in Karachi. He was a resident of district Zhob in Balochistan. His is the only case in which investigations have been completed and the court has also announced a verdict against the killers. One of his killers, Faisal Mota, was arrested in the recent raid of Rangers at the MQM (Muthahida Qaumi Movement) head office known in Karachi as '90'. Importantly, the Wali Khan Babar case was registered only after countrywide pressure was mounted by the PFUJ and local unions who also monitored the progress of the case.
Manzoor Ahmed Bugti, of Pakistan Television, has been missing from Dera Bugti since November 7, 2014. His whereabouts remain unknown.
"Too many journalists have been killed in Balochistan during these past years, and their deaths have not yet been brought to justice" – Mohammad Essa Tareen (Former President of Balochistan Union of Journalists)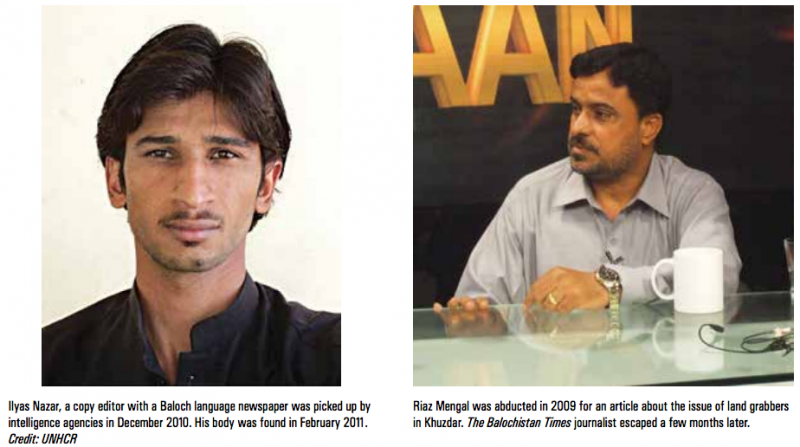 Pressing for accountability
Impunity is a continuing issue for journalists in Pakistan, as sometimes the journalists themselves avoid reporting incidents to the police out of fear of reprisal. But on their part, government agencies have also not done their duty of carrying out proper investigations into the murders, attacks, kidnapping and disappearances of journalists. The present provincial government of Dr Abdul Malik has promised to look into matters concerning journalists' security and safety. His assurance came after a delegation of the PFUJ met him in 2014 with the list of journalists who had been killed and threatened in the line of duty.
Training to stay alive
Balochistan has become a cemetery for journalists who perform their journalistic duties with great honesty and courage. Only a few of them have been re-located to safer locations by their parent organisations; the majority of them continue to report from the frontlines in Balochistan. PFUJ with the assistance of its international partners especially International Federation of Journalists has taken many daring steps to train journalists – many of whom are not even its members – in security and safety.
In 2012, a capacity building training program was held by the PFUJ and its partners for the safety and security of reporters working for various news channels and newspapers in far flung areas of the province. With assistance from the PFUJ and the IFJ and based on the IFJ mission to Balochistan, training programs were delivered to journalists from Quetta, Mastung, Loralai, Khuzdar, Chaman and Turbat on safety, security and ethics.
Media houses have started taking interest in the safety of their journalists, but there is a continued need to engage them and institutionalise professional safety and security. The International Federation of Journalists (IFJ), International Media Support (IMS) and PFUJ have produced training material, handbooks and charts in Urdu and English on ethics, safety and safe journalism.
Unfortunately, these handbooks and pamphlets with the code of ethics for safety are often ignored by desk staffers at the office in the headquarters, leading to a lack of priority in establishing mechanism for safety in the field. Impartial and unbiased reporting and editing could save and protect 40 to 50 percent threats to the journalists working in Balochistan and elsewhere in Pakistan.  There is a continued need to provide journalists with a safety net as well as to build professional capacity so as not to invite any threat to their lives from their style of reporting.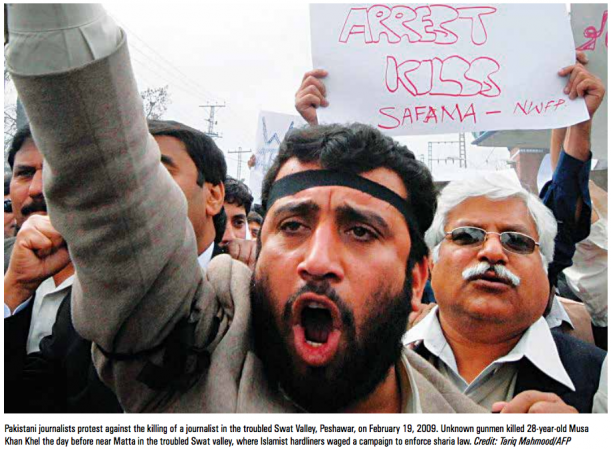 Media Workers Killed in Balochistan since 2007
| | | | | |
| --- | --- | --- | --- | --- |
| No | Date | Name | Organisation | Details |
| 1 | October 18, 2007 | Khalil Ullah Samalani | Reporter, Ba-Khaber ('Be Informed') | Killed at Pakistan Peoples Party rally in Quetta for the late chairperson Benazir Bhutto, when it was attacked by a suicide bomber. |
| 2 | February 9, 2008 | Chisti Mujahid | Columnist for Akhbar-i-Jehan | Killed by the Baloch Liberation Army (BLA) in Quetta |
| 3 | April 14, 2008 | Khadim Hussain Sheikh | Journalist, Urdu-language Khabrayn, | Killed in Hub by unknown assailants |
| 4 | April 16, 2009 | Wasi Ahmed Qureshi | Daily Azadi | Shot in Khuzdar by the BLA |
| 5 | April 16, 2010. | Malik Mohammad Arif | Cameraman, Samaa TV | Killed in a suicide bomb blast while covering a terrorist attack on the Quetta Civil Hospital |
| 6 | June 27, 2010 | Faiz Muhammad Sasoowli | Aaj Kal | Shot in Khuzdar by the BLA while driving. He had survived two previous attempts on his life. |
| 7 | September 3, 2010 | Ejaz Raisani | Reporter, Samaa TV | Killed while covering a rally in Quetta that was attacked by suicide bombers. |
| 8 | September 3, 2010 | Muhammad Sarwar | Driver, Samaa TV | Killed while covering a rally in Quetta that was attacked by suicide bombers. |
| 9 | October 2010 | Abdul Hameed Hayatan, a.k.a., Lala Hamid Baloch | Jang and Nawa-e-waqt and also president of the Gwadar Press Club | Kidnapped from Mustong district by security agencies on October 25. His bullet-ridden body was found on November 18, 2010 in Turbat district. |
| 10 | December 14, 2010 | Muhammad Khan Sasoowli | Correspondent for Balochistan Times, Royal TV and the INP news agency.  and president of the Khuzdar press club, | Gunned down outside his home. His killing was claimed by the armed separatist organisation Baloch Armed Defenders. |
| 11 | January 13, 2011 | Wali Khan Babar |  GEO News | Killed by gunmen in Karachi. His killers, from the MQM were sentenced to death on March 10, 2015 |
| 12 | February 11, 2011 | Ilyas Nazar | Copy editor with a Balochi language paper | Picked up by intelligence agencies on December 22 on his way from Quetta to native Turbat. His body was found in February. |
| 13 | February 18, 2011 | Abdost Rind | Daily Eagle (Urdu) | Shot by motorcycle borne assailants on his way home from work in Turbat |
| 14 | April 1, 2011 | Rehmat Ullah Shaheen | Daily Twar (Balochi language paper). | Kidnapped from Dhadar, and his bullet-ridden body was found in Quetta. |
| 15 | April 25, 2011 | Zareef Fraz | Editor In-chief of quarterly Urdu magazine Shajo | Kidnapped on April 21, 2011, his bullet ridden body was found on April 25, 2011 in Turbat. |
| 16 | April 29, 2011 | Siddique Ayido | Daily Eagle | Kidnapped on December 21, 2010 with his associate Yusuf Nazar when they were coming out of the court in Pasni. Their bullet-ridden bodies were found at Ormara on April 29, 2011. |
| 17 | April 29, 2011 | Yusuf Nazar | Daily Eagle | Kidnapped on December 21, 2010 with his associate Siddique Ayido when they were coming out of the court in Pasni. Their bullet-ridden bodies were found at Ormara on April 29, 2011. |
| 18 | August 14, 2011 | Munir Ahmed Shakir | Express News | Killed in Khuzdar for celebrating Pakistan's Independence Day. Baloch Armed Defenders claimed responsibility. |
| 19 | October 16, 2011 | Akhtar Mirza, | Editor, Daily Jang | Died in Quetta of a heart attack reportedly brought on by threats and intimidation by government agencies and separatist groups. |
| 20 | November 5, 2011 | Javed Naseer Rind. | Formerly with Express News | Forced to give up journalism due to death threats from both the government and separatist groups, was kidnapped on September 11. His bullet-ridden body was found in Khuzdar on November 5, 2011. |
| 21 | May 19, 2012. | Razaq Gul Baloch | Reporter, Express News | Kidnapped and his bullet ridden body was placed near his house. |
| 22 | May 28, 2012 | Abdul Qadir Hajizai | Reporter, daily Mushraq, Wish TV | Killed in Washak, The Baloch Liberation Front accepted responsibility for his murder |
| 23 | August 31, 2012 | Dilshad Dhani | Daily Urdu Azadi and Joint Secretary of Gwadar Press Club | Killed in Karachi |
| 24 | November 18, 2012 | Rehmat Ullah Abid | Duniya TV | Killed in Panjgur, Balochistan, by unidentified assailants |
| 25 | September 29, 2012 | Abdul Haq Baloch | Correspondent, ARY Television and secretary-general of the press club | Killed in Khuzdar as he was leaving the press club. He had been on the hit list of the Baluch Musalah Diffa Army (BMDA, or the Armed Baluch Defense) since  November 2011. |
| 26 | January 10, 2013 | Imran Shaikh | Senior cameraman, Samaa TV | Killed in a  bomb blast that occurred minutes after an initial explosion near a billiards hall in Quetta, |
| 27 | November 7, 2014 | Irshad Mastoi | Bureau Chief of On Line News Agency | Killed by unknown assailants in Quetta |
| 28 | November 7, 2014 | Abdul Rasool | Reporter ARY news | Killed by unknown assailants in Quetta |
| 29 | November 7, 2014 | Muhammad Younas | Media assistant | Killed by unknown assailants in Quetta |
(This is a part of the capsule report from the conflict zones for the South Asia Press Freedom Report 2015 which is available to download in resource section.)
Supported by 

Written By

IFJ Asia-Pacific
The IFJ represents more than 600,000 journalists in 140 countries.
For further information contact IFJ Asia-Pacific on +61 2 9333 0946
Find the IFJ on Twitter: @ifjasiapacific
Find the IFJ on Facebook: www.facebook.com/IFJAsiaPacific
Comments