Press Statement
Bangladesh: Brahmanbaria Patrika journalist hacked to death
11 Jan, 2023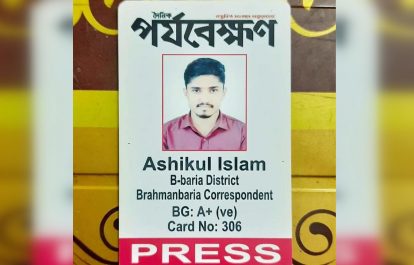 According to a media- report, a group of assailants, attacked 27-year-old Islam with a knife near Faruki Park in Brahmanbaria,Chattogram, at around 7 pm while he was returning home in an auto-rickshaw. All the assailants fled the scene immediately after leaving Islam seriously injured.
Locals took the journalist to Sadar Hospital where he was later declared dead.
The police soon arrested Raihan Mia alias Sohan on suspicion of killing the journalist. Raihan accepted responsibility. The police are still investigating the reason behind the attack and details of others involved in the killing.
Islam is the first journalist killed in Bangladesh in 2023. Late last year, female journalist Shabnam Sharmin was found dead in her house in suspicious circumstances. Bangladeshi journalists are demanding an immediate investigation into the case.
Manobadhikar Sangbadik Forum (BMSF), a Bangladeshi human rights organisation, is looking into whether his profession had any link with the incident.
Bangladesh Manobadhikar Sangbadik Forum (BMSF), said: "We condemn the heinous killing of journalist Ashiqul Islam. BMSF demands the immediate arrest of all those involved in his killing."
IFJ General Secretary, Anthony Bellanger, said: "IFJ expresses its condolences to the Bangladeshi journalists' fraternity and joins them in seeking a swift investigation into the case and for the authorities to bring the perpetrators to justice."
Written By

IFJ Asia-Pacific
The IFJ represents more than 600,000 journalists in 140 countries.
For further information contact IFJ Asia-Pacific on +61 2 9333 0946
Find the IFJ on Twitter: @ifjasiapacific
Find the IFJ on Facebook: www.facebook.com/IFJAsiaPacific
Comments