Press Statement
Bangladesh: Daily newspaper staff charged under Digital Security Act
15 May, 2020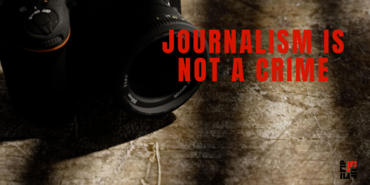 Media workers from Meherpur Pratidin daily are accused of defaming former lawmaker Maqbool Hossain under the Digital Security Act (DSA). The International Federation of Journalists (IFJ) call on authorities to drop the charges and review the Digital Security Act.
Maqbool Hossain's nephew, Sabuj Hossain filed a case at Gangni Police Station in Gangni Upazila against Meherpur Pratidin publisher Emon Ahmed, editor Yadul Momin, and joint editor Al Amin on May 13 for the newspaper's report on a property dispute. The case accuses the newspaper of damaging the reputation of Maqbool, who is the former president of Meherpur district, Awami League party. According to the nephew, the Meherpur Pratidin article alleged Maqbool has been occupying a property for the last 26 years despite requests from the land owner to vacate.
Recent articles featuring Bangladeshi authorities have resulted in further misuse of the Digital Security Act (DSA). On May 7, the DSA was used to arrest cartoonist Ahmed Kabir Kishore, writer Mushtaq Ahmed, activist Didarul Islam Bhuiyannd and businessperson Minhaz Mannan Emon for allegedly posting anti-government content on a social media platform called "Rashtrachinta". Seven other journalists are charged as part of the same case under the DSA.
In the first week of May, police arrested five journalists in Bangladesh under the DSA, including Shafiqul Islam Kajol, photographer and editor of Pakkhala Sahifqul magazine who went missing earlier on March 10. Kajol was only found and re-arrested on May 3 on World Press Freedom Day.
In February, Bangladesh's High Court asked the government to prove why two sections of the DSA are not unconstitutional.
Bangladesh Manobadhikar Sangbadik Forum (BMSF) said: "We urge authorities to withdraw charges against journalists including Meherpur Pratidin publisher and editors."  
IFJ said: "The DSA has created an atmosphere of fear and intimidation for journalists in Bangladesh that must be reviewed for freedom of expression to thrive. The IFJ urge authorities to release the journalists immediately and drop all charges."
Comments