Attacks on Media
Bangladesh: Journalist attacked and thrown off building for reporting on hill-cutting
18 Apr, 2023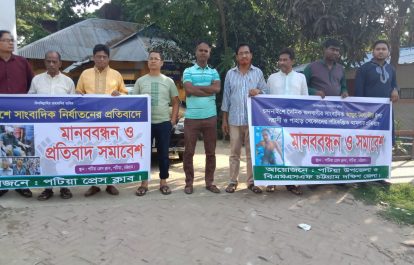 Bangladeshi journalist Ayub Meahzi has suffered grave injuries after a group of unidentified armed assailants attacked and threw him from a two-story building in Chittagong on April 4. The International Federation of Journalists (IFJ) condemns the brutal attack and calls on authorities to conduct an immediate and transparent inquiry into the incident.
On April 4, a group of approximately ten men armed with machetes, iron rods, and sticks stormed the second floor of a building to attack Meahzi, a Chandanaish based correspondent for Janobani and The Daily Shangu. The men then threw the journalist from the building onto the street, where he sustained significant injuries.
The Daily Star reported that Meahzi broke three ribs and suffered injuries to his head from the fall. He was admitted to Chattogram Medical College Hospital in a critical state and is now recovering.
According to the journalist's family, Meahzi was attacked for reporting on illegal land clearances in the East Dohazari area, informing local authorities of the issue in the process. Chandnaish police claim to have arrested one person identified from video footage of the attack, while two of the accused have absconded.
A protest condemning Meahzi's assault was held on April 5 at Dohajari Sadar, where members of Patia Press Club and Chandanaish Press Club addressed the crowd. Journalists, press clubs, and journalist representative organisations condemned the violence, called for an investigation into the incident, and promised further action if arrests failed to materialise.
Journalists and media workers in Bangladesh continue to face significant threats of torture, harassment, and intimidation while in the field. On April 18, two journalists were assaulted in  Narayanganj while gathering information at a local hospital, after recording a fight that broke out between patients. According to Amnesty International, 56 journalists in Bangladesh have been tortured, harassed, sued, intimidated, and prevented from doing their jobs in the first three months of this year.
The IFJ said: "The attack against Ayub Meahzi represents the significant danger posed to journalists working in Bangladesh. This incident is nothing short of an attempted murder and should be investigated as such. The IFJ condemns the attack and urges the Bangladeshi authorities to conduct an immediate and transparent investigation."
Written By

IFJ Asia-Pacific
The IFJ represents more than 600,000 journalists in 140 countries.
For further information contact IFJ Asia-Pacific on +61 2 9333 0946
Find the IFJ on Twitter: @ifjasiapacific
Find the IFJ on Facebook: www.facebook.com/IFJAsiaPacific
Comments