Press Statement
Bangladesh Journalist attacked with harpoon at home
03 Aug, 2014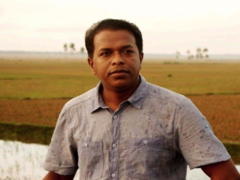 The International Federation of Journalists (IFJ) joins the Bangladesh Manobadhikar Sangbadik Forum (BMSF) in condemning the attack on journalist Nasrul Anwar on August 2.
Anwar, a staff reporter for the Bangla-language daily Kaler Kantho, was attacked by an unidentified person at his home in Bazitpur, in the Kishoregunj district of Dhaka. According to his family members, the man entered the residence during the early morning and hit Nasrul with a harpoon causing serious injury to his right arm.
He was rushed to Bazitpur Zahurul Islam Medical College and Hospital in critical condition.
Nasrul said: "This attack was an attempt to murder me. The miscreant tried to hit me with a harpoon on my chest but it went through my arm." He claimed that the attack was a result of his reporting on corruption against some influential people in the area.
Police are investigating the case but no arrest has been made thus far.
The BMSF and journalists have demanded immediate arrest and prosecution of the attacker and have planned a campaign against the attack.
The IFJ said: "Attacks on journalists are a violation of media rights and the state should act immediately to arrest and punish the perpetrators. The failure to do so undermines the safety of journalists. Hence, the IFJ urges the Bangladesh government to immediately act on the attack."
Written By

IFJ Asia-Pacific
The IFJ represents more than 600,000 journalists in 140 countries.
For further information contact IFJ Asia-Pacific on +61 2 9333 0946
Find the IFJ on Twitter: @ifjasiapacific
Find the IFJ on Facebook: www.facebook.com/IFJAsiaPacific
Comments