Press Statement
Bangladesh: Journalists assaulted by lawyers at Chittagong court
20 Aug, 2022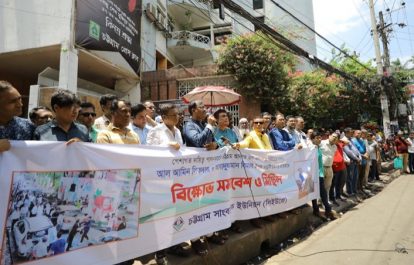 A group of lawyers attacked two journalists while they were covering a story at the Chittagong District Judge Court on August 17. The International Federation of Journalists (IFJ) condemns the attack and calls on the Bangladeshi government to launch an urgent inquiry into the incident and hold those responsible to account.
Al Amin Sikder, a journalist for Jamuna Television and his cameraperson, Asaduzzaman Limon, were physically and verbally assaulted at 3:30pm as they arrived to report at Chittagong District Judge Court.
The journalists were first assaulted at the entrance of the court and again in the Office of the Lawyers' Association. According to eyewitnesses, Sikder and Limon were kicked and punched repeatedly by a group of at least 10 lawyers, before other journalists came to their rescue.
The victims were then taken to a private hospital in the Chittagong district to receive treatment for their injuries.
On Thursday August 18, the Chittagong Union of Journalists (CUJ) staged a protest outside the Chittagong Press Club, calling on the authorities to arrest the lawyers involved in the incident and demanding their Bar Council certificates be revoked. The CUJ also threatened a nationwide movement if incidents of this nature were to occur again.
In Bangladesh, attacks perpetrated against journalists are commonplace.
On August 2, two DBC News Journalists, were assaulted while investigating allegations of corruption against the Victor Trading Corporation regarding their procurement of medical equipment. Less than two weeks later, Pritam Das, a reporter for the Vhor paper was attacked while covering a story at Chittagong's New Market area.
The Bangladesh Manobadhikar Sangbadik Forum (BMSF) said:"The BMSF strongly condemns the attack on journalists, Al Amin Sikder and Asaduzzaman Limon.  We demand the immediate arrest of the culprits. Our solidarity is with the Chittagong Journalists Union in this case."
The IFJ said: "The attack against the two journalists, Al Amin Sikder and Asaduzzaman Limon, is the latest example of the ongoing persecution faced by journalists across Bangladesh on a regular basis. The IFJ condemns this attack and urges authorities in Bangladesh to hold those responsible for the attack accountable."
Written By

IFJ Asia-Pacific
The IFJ represents more than 600,000 journalists in 140 countries.
For further information contact IFJ Asia-Pacific on +61 2 9333 0946
Find the IFJ on Twitter: @ifjasiapacific
Find the IFJ on Facebook: www.facebook.com/IFJAsiaPacific
Comments