Press Statement
Bangladesh: Journalists assaulted while reporting on illegal occupation allegations
20 Sep, 2022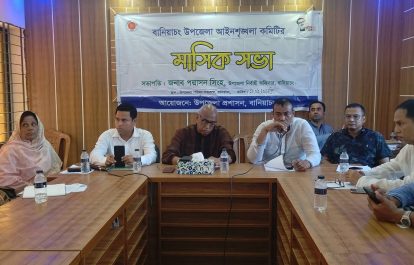 On September 11, editor Rajib Noor and journalists Moshahed Mia, Patrika Touhid Mia and Alamgir Reza were allegedly assaulted while reporting on the illegal occupation of a house in Bangladesh's Habiganj District, the home of renowned twentieth-century travelogue, author and cyclist Ramnath Biswas.
According to reports, Waheed Mia and his family have occupied the historic property for a considerable time with Mia claiming to have previously purchased the property. According to local government officials, this claim has been disputed and previous attempts to evict the family have been unsuccessful.
BD News24 special assignment editor Rajib Noor said the altercation began after he photographed the property. Following a verbal disagreement, Mia's son, Walid, and other unidentified assailants then seized Noor's phone and assaulted the journalists with sticks.
Waheed Mia denied the allegations and said that while he objected to journalists taking photographs of the property, he and his family were not involved in the attack.
The injured journalists received treatment at the Baniachong Upazila health complex in Habigani. Habiganj law enforcement has committed to legal action against the perpetrators.
This incident evoked condemnation from several regional journalist bodies and associations, urging law enforcement to take immediate action. The Bangladesh Manobadhikar Sangbadik Forum condemned the attack and demanded an impartial investigation into the case.
The IFJ has documented several incidents of violence and harassment against journalists in Bangladesh in recent months. On September 5, journalist Bulbul Habib and media practitioner Rubel Islam were seriously assaulted by Barind Multipurpose Development Authority staffers while reporting. On August 17, a group of lawyers verbally and physically assaulted journalists covering a story at the Chittagong District Judge Court.
The IFJ said: "The increasing frequency of attacks on journalists and media workers in Bangladesh is evidence of the constricting environment for press freedom in the country. The IFJ calls on the Bangladeshi government and law enforcement to ensure and immediate investigation into the assault and bring the perpetrators to justice.
Written By

IFJ Asia-Pacific
The IFJ represents more than 600,000 journalists in 140 countries.
For further information contact IFJ Asia-Pacific on +61 2 9333 0946
Find the IFJ on Twitter: @ifjasiapacific
Find the IFJ on Facebook: www.facebook.com/IFJAsiaPacific
Comments