Attacks on Media
Bangladesh must take action to end climate of intimidation and murder
02 Oct, 2015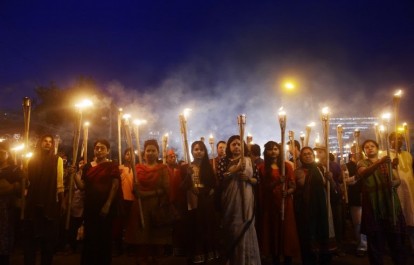 The International Federation of Journalists (IFJ) calls on the Bangladesh Government and the United Nations to take immediate action to ensure the safety and security of journalists, bloggers, writers and activists named on a 'hit list' released by the Bangladeshi militant group, Ansarullah Bangla Team (ABT).
The IFJ has condemned a shocking decline in freedom of expression in Bangladesh that has resulted in four brutal murders of secular bloggers in 2015 and the circulation of a list of future potential targets, including bloggers both inside and, for the first time, outside the country.
In September, the militant group issued a hitlist of secular bloggers, writers and activitists around the world, which it said would be killed if its demands were not met. According to reports, those on the list include nine bloggers based in the United Kingdom, seven in Germany, two in the USA, one in Canada and one in Sweden. The list also included a number of dual nationals and citizens from other countries. ABT is reported to be a recently-formed terrorist group in Bangladesh and is officialy banned by the government. It has been linked to al Qaeda in the Indian subcontinent.
The IFJ said Bangladesh's decline in freedom of expression has extended to widespread threats and intimidation and is linked to the circulation of an earlier hitlist of 84 secular bloggers named in a document as 'anti-Islam'by a South Asian arm of Al-Queda, Hefazat-e-Islam in 2013. The group presented the list to Bangladesh's interior ministry that year, asking for the writers to be punished. The list has since made its way into wide circulation and can easily be found on the internet. As many as eight people named in that original hitlist have since been killed.
Earlier the same year, in February 2013, blogger Ahmed Rajib Haider, also known as Thaba Baba, was killed by assailants wielding machetes outside his home in Dhaka. Haider's brother said after his death that his brother had been targeted by the Islami Chhatra Shibir – the student wing of the Jamaat-e-Islami party – for his "online activities". After his murder of Haider, a number of bloggers fled the country.
This year, on May 21, 2015, the Hefazat-e-Islam threatened to kill 10 eminent Bangladeshis including blogger Imran H Sarkar, terming them as atheist and anti-Islam. Copies of the letter were mailed to home addresses with a warning reading: "Must you will prepare for dead."
The release of the latest hit list comes after the acting leader of ABT and two associates, were arrested for the killing of Md Oyasiqur Rahman Babu. Rahman a well-known blogger was murdered in Dhaka in March. He was the second blogger killed in 2015, following the murder of US-Bangladeshi blogger, Avijit Roy in February. Roy had returned to Bangaldesh to launch his new book, when he and his wife were attacked with a machete in Dhaka. His wife survived the attack, however, she has also been named as one of the bloggers on the new hit list. Prior to travelling to Bangaldesh, Roy received death threats from ABT and others online.
In May, a third blogger Ananta Bijoy Das was hacked to death on his way to work in Sylhet in north-eastern Bangaldesh. Das was well-known for his writing on Mukto-Muno, the blog run by Avijit Roy.
More than 150 writers from around the world, including Margaret Atwood, Salman Rushdie, Yann Martel and Colm Tóibín added their name to a letter by PEN International in May 2015, condemning the deaths of bloggers in Bangladesh, calling on the country's government "to ensure that the tragic events of the last three months are not repeated, and to bring the perpetrators to justice". However, in August, a fourth blogger Niladri Chattopadhyay operating under the pen name, Niloy Neel, was also brutally killed when four men entered his home in Dhaka. The men, who posed as tenants, hacked Neel to death while holding his sister-in-law and wife hostage.
In September, the Bangladeshi government followed through on its promise ensure action following the string of murders. Arrests were made in each of the cases. Al-Qaida has publicly praised violent operations by the ABT.
This week, the Bangladesh Manobodhikar Sangbadik Forum (BMSF) said: "BMSF strongly condemns life threats for Bangladeshi bloggers. We demand the Government of Bangladesh takes immediate legal action against those who are given life threat for bloggers through cellphone/e-mail/web-site/social media.
According to the Bangladesh constitution and international convention each and every person has a right to free speech/writing/blogging. BMSF are requesting the UN and international media rights organizations to raise their voice to protect & promote press freedom, bloggers' human rights and the right to opinions in Bangladesh."
The Bangaldesh Nari Sangbadik Kendra (BNSK) said: "We express very much our concern about the threats on bloggers. It is a great concern  for media as well as all progressive minded people in Bangladesh. Our organisation always protests against all kind of activities of fundamentalists."
The South Asia Media Solidarity Network (SAMSN) said: "We condemn this blantant attack on freedom of expression. Journalists, bloggers, writers and media workers should never be intimidated, threatened or attacked for their work. Freedom of expression and religious tolerance is the foundation of democracy and a vital component of each nation in South Asia. We call on the Bangaldeshi Government to take a stand against this attack on free speech."
IFJ President Jim Boumelha said: "While action has been taken by the Bangladeshi government and authorities in arresting some of the killers involved in the 2015 murders, the issue is now an international concern with names of independent voices being targeted globally."
"The Bangladesh government now has a critical responsibility to all Bangladeshis to send a clear message that these machete murders will not be tolerated and those responsible will be punished. The government now needs to ensure it follows through on the arrests made and restore the confidence of the media community in the government and authorities to ensure their safety. Justice must be strong; it must say freedom of expression cannot be silenced by fear, intimidation and the spectre of murder," said the IFJ.
The IFJ also calls on the United Nations and member states, in the lead up to UN International Day to End Impunity for Crimes Against Journalists, to take action against this threat to freedom of expression across the world.
Photo: Women protest the brutal murder of US-Bangladeshi blogger, Avijit Roy, in Dhaka this year. Credit: Munir Uz Zaman/AFP
Written By

IFJ Asia-Pacific
The IFJ represents more than 600,000 journalists in 140 countries.
For further information contact IFJ Asia-Pacific on +61 2 9333 0946
Find the IFJ on Twitter: @ifjasiapacific
Find the IFJ on Facebook: www.facebook.com/IFJAsiaPacific
Comments