Press Statement
Bangladesh: Politician charges media under Digital Security Act
22 Apr, 2020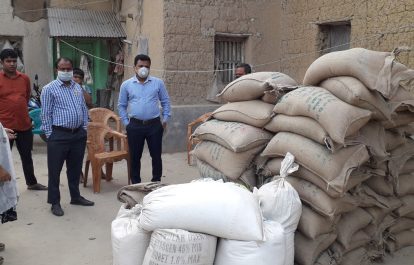 A politician has accused media workers who shared a story on the alleged misappropriation of Covid-19 relief rice in Bangladesh of breaching the Digital Security Act. The International Federation of Journalists (IFJ) expresses grave concern over the misuse of the Digital Security Act and urge authorities to review their decision.
Mominul Islam Bhashani, president of Baliadangi upazila Swechchhasebak League, an associate body of the ruling Awami League, filed the case against Toufique Imrose Khalidi, editor in chief of bdnews24.com, Mohiuddin Sarker, Jagonews24.com acting editor for publishing allegedly unfounded news defaming him and his political party, the Awami League. Two local correspondents, Shawon Amin and Rahim Shuvo were also sued by Mominul on April 18, after sharing the story on Mominul's rice theft on Facebook.
The Bangladesh government scheme selling relief-rice at Tk 10 (USD 0.12) per kilogram to five million poor households across the country has been reportedly tainted by irregularities, embezzlement and arrests.
The media workers face up to 14 years of imprisonment for expressing views on a digital platform that authorities may deem defamatory or subversive under the Digital Security Act.
Bangladesh Manobadhikar Sangbadik Forum said: "We are concerned about the case filed against editors under Digital Security Act. We protest the legal action and demand an immediate withdrawal of the false case".
IFJ said: "The case against the four media workers under the Digital Security Act is a blatant attempt to censor the media from reporting on issues that are of public interest during this health crisis. The IFJ calls on authorities to refrain from charging the media workers".
Written By

IFJ Asia-Pacific
The IFJ represents more than 600,000 journalists in 140 countries.
For further information contact IFJ Asia-Pacific on +61 2 9333 0946
Find the IFJ on Twitter: @ifjasiapacific
Find the IFJ on Facebook: www.facebook.com/IFJAsiaPacific
Comments