Attacks on Media
Bangladesh: Three journalists charged under Digital Security Act
17 Feb, 2021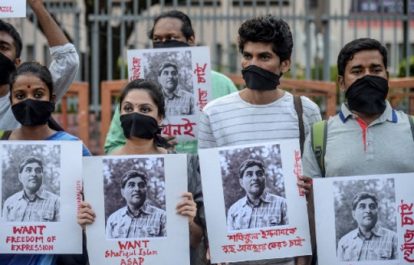 Bangladesh police this week formally charged three journalists under the Digital Security Act (DSA) for publishing material alleged to have the potential to 'destroy communal harmony and create unrest'. The International Federation of Journalists (IFJ) strongly condemns the charges under the draconian act and the flagrant and ongoing intimidation by police against Bangladesh media workers.
Photographer Shafiqul Islam Kajol was charged on February 8, while cartoonist Ahmed Kabir Kishore and writer Mushtaq Ahmed were both charged on February 4. Bangladesh's DSA, adopted in October 2018, puts dangerous restrictions on freedom of expression and is regularly used by authorities to silence criticism. During 2020, arrests under the DSA increased significantly to crack down on Covid-19 "rumours".
Ramna police charged Kishore and Ahmed, along with Rashtrochinta activist Didarul Islam Bhuiyan, on February 4 with violations of the DSA including the publishing of propaganda, false or offensive information, and information that could destroy communal harmony and create unrest. The charges carry a maximum penalty of 10 million taka (US $118,000) and up to 10 years imprisonment.
Four days later, on February 8, Kajol, a photographer and editor of Pakkhakal Sahfiqual magazine, was charged in Dhaka for allegedly criticising political leaders and spreading false, offensive and defamatory information on his personal Facebook page. Each charge carries a penalty of three years in prison. Kajol also faces another five years imprisonment for another charge of unauthorized use of identity information, as well as a fine of 300,000 to 500,000 taka (US$3,500-$6,000).
The case against Kishore and Ahmed was originally filed at Ramna Police station on May 6, 2020 by Abu Bakar Siddique, the assistant director of the third branch of Bangladesh's Rapid Action Battalion (RAB). The paramilitary force is accused widely by human rights groups of abuse of power and serious human rights violations. The two journalists were among 11 people indicted the same day, including Swedish-Bangladeshi journalist Tasneem Khalil, US-based journalist Shahed Alam and German blogger Asif Mohiuddia. However, only Kishore, Ahmed and Bhuiyan were charged after a reported lack of evidence against the other eight accused. Kishore and Ahmed have both been held in prison for nine months, with bail petitions rejected as many as six times.
The journalists are being prosecuted under Section 25(1) (b), Section 31 and Section 35 of the DSA, which forbids any campaign, "against the Liberation War of Bangladesh, the cognition of the Liberation War, Father of the Nation, National Anthem or National Flag",  anyone "tarnishing the image of the nation or spread confusions" or attempting to "create hostility, hatred or adversity among people or destroy any communal harmony or create unrest or disorder or deteriorates or threatens to deteriorate law and order."
Shafiqul Islam Kajol has been repeatedly intimidated over the past year, after he published an allegedly defamatory article on social media about a member of parliament for the Awami League, Saifuzzaman Shikor. On March 20, 2020, Kajol was reported missing in a suspected 'enforced disappearance' by Bangladesh authorities and was later arrested under the DSA on May 2. He was released from prison on December 25.
The IFJ said: "Bangladesh's oppressive Digital Security Act has been put into overdrive for abuse since the onset of Covid-19 with dire consequences for press freedom. The IFJ calls on the Bangladesh government and police to cease the threats and attacks on journalists, social media users and media rights activists and to dismiss all charges against Kishore, Ahmed and Kajol."
Written By

IFJ Asia-Pacific
The IFJ represents more than 600,000 journalists in 140 countries.
For further information contact IFJ Asia-Pacific on +61 2 9333 0946
Find the IFJ on Twitter: @ifjasiapacific
Find the IFJ on Facebook: www.facebook.com/IFJAsiaPacific
Comments