Press Statement
Bangladesh: Two journalists allegedly assaulted by student activists
25 Aug, 2023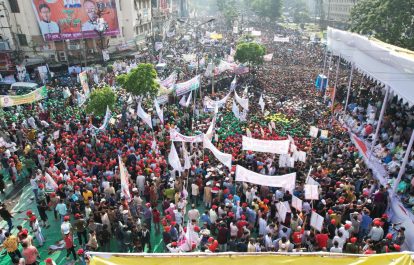 On August 21, several Jahangirnagar University (JU) BCL activists arrived at a campus guest hall, allegedly chasing a student. United News of Bangladesh JU correspondent and media studies student Asif Al Amin, then sitting outside the guest hall, went to investigate the incident upon hearing screams. The activists, reportedly suspecting the journalist had been recording them, proceeded to assault Al Amin, despite him identifying himself. The attackers are allegedly affiliated with JU BCL.
The attack occurred following the broadcast of a programme commemorating the 19th anniversary of a grenade attack following a speech by current Prime Minster and Awami League President Sheikh Hasina. University leadership have denied knowledge of the event.
In a separate incident, Daily Ajker Darpan and bartabazar.com Patuakhali district correspondent Md Nayan Mridha was attacked and injured on the evening of August 21 while returning to his Press Club. At around 7:30 p.m., a group of men, allegedly members of a local BCL chapter, began to verbally abuse and then assault the journalist. The attack came over a month after the publication of an article detailing the Patuakhali BCL President's "committee business".
Reportedly, Nayan's attacke
rs included Patuakhali district BCL President Md Saiful Islam's cousins, Sabbir Hossain and Al-Amin. Nayan has since lodged a complaint with the Patuakhali Sadar Police Station, with officials vowing to investigate the incident and file legal charges accordingly. Islam has denied involvement, claiming he was not present at the scene. According to the Daily Star, Mridha is undergoing medical treatment at Patuakhali Medical College Hospital.
The incident has been condemned by press freedom advocates, including South Asia Media Solidarity Network (SAMSN) member, the Bangladesh Manobadhikar Sangbadik Forum (BMSF), who demanded authorities take immediate action against all responsible for the attacks.
University-based journalists in Bangladesh have been subject to an increasing number of attacks and threats while on campus. Earlier this year, Jashora University of Science and Technology BCL activists attacked Bangladesh Post correspondent Jahirul Islam on May 22 and Sajubar Rahman on May 20. In April, student journalist Rifat Haque and correspondent for an online news portal was assaulted after failing to make a positive report about a campus BCL leader.
The BCL is a students' political organisation in Bangladesh. It operates as the student wing of the Bangladesh Awami League, Bangladesh's ruling party.
The IFJ said: "Student organisations have been responsible for a growing trend of assaults, threats, and abuse against university journalists and media workers. The IFJ calls on Bangladeshi and campus authorities to investigate the assaults of these journalists, and to guarantee the safety of journalists and media workers in Bangladesh."
Written By

IFJ Asia-Pacific
The IFJ represents more than 600,000 journalists in 140 countries.
For further information contact IFJ Asia-Pacific on +61 2 9333 0946
Find the IFJ on Twitter: @ifjasiapacific
Find the IFJ on Facebook: www.facebook.com/IFJAsiaPacific
Comments