Press Statement
Bangladeshi journalist beaten for taking photo
04 Feb, 2015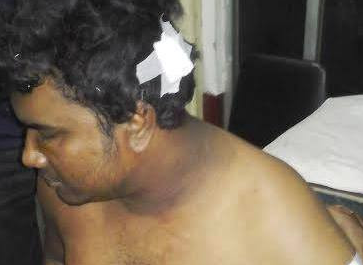 The International Federation of Journalists (IFJ) and the Bangladesh Manobadhikar Sangbadik Forum (BMSF) condemns the police brutality toward a Bangladeshi journalist on Sunday, February 1 in Dhaka. The IFJ call for an immediate investigation into the assault and action taken against the perpetrators.
Police allegedly assaulted Nazmul Huda Suman, the Dhaka University correspondent of the English daily New Age, and his friend for taking photographs of a policeman riding as a passenger on a motorcycle. Bangladesh authorities have recently banned riding as passengers on motorbikes in the wake of arson and crude bomb attacks.
A group of policemen led by Sub-Inspector Mehedi Hasan Suman, of Ramna police, attacked Suman despite the journalist producing his press identity card. The police beat Suman and his friend on the street, in the police car and, later, at theRamna police station.
He sustained injuries in his head and other body parts. Suman is currently in hospital receiving treatment for his injuries and has filed three cases of brutality against the police officers.  
The BMSF said in a statement: "We condemn the action in the strongest possible terms. This is not an isolated case as police cruelty has occurred more often than not with no room for the victim to seek redress."
Jane Worthington, the IFJ Asia Pacific acting director, said: "Immediate action must be taken to ensure such attacks to do not continue. Police brutality is an extreme violation by the state that cannot be tolerated against members if the press and condemned."
The IFJ added: "The IFJ demands immediate probe into the case."
Written By

IFJ Asia-Pacific
The IFJ represents more than 600,000 journalists in 140 countries.
For further information contact IFJ Asia-Pacific on +61 2 9333 0946
Find the IFJ on Twitter: @ifjasiapacific
Find the IFJ on Facebook: www.facebook.com/IFJAsiaPacific
Comments