Press Statement
Bangladeshi journalist released on bail after four months in custody
01 Sep, 2016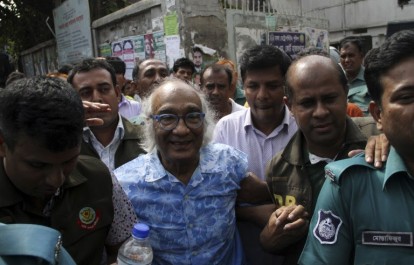 The International Federation of Journalists (IFJ) and the Bangladesh Manobadhikar Sangbadik Forum (BMSF) welcomes the order by the Supreme Court to release senior journalist Shafik Rehman on bail. The IFJ calls on the Bangladeshi government to immediately withdraw all charges against the journalist.
Yesterday, August 31, a five-member Appellate Division bench led by Chief Justice Surenedra Kumar Singh, granted three months bail to 81-year-old Rehman who was arrested on April 16,. Rehman was arrested for attempting to abduct and murder Prime Minister Sheikh Hasina's son Sajeeb Wazed Joy in the USA, yet to date, no charges have been laid against him. Rehman has been in detention since his arrest, including the prison hospital after his health deteriorated. He had previously been denied bail by the High Court, and according to his family was placed in solidarity confinement in prison.
Rehman, a veteran journalist and editor, was the long-time editor of Jai Jai Din, a mass-circulation Bengali daily, and, at the time of his arrest, he edited a popular Bengali monthly magazine called Mouchake Dhil. He was also an advisor to opposition leader Khaleda Zia.
On August 16, the IFJ, Reprieve, Index of Censorship, Reporters Without Borders and 21 other international press freedom organisations had written a joint letter demanding the immediate release of Rehman. The joint letter that was sent to Bangladeshi Minister for Law, Justice and Parliamentary Affairs, Anisul Huq, called for Shafik's immediate release on the grounds that after more than three months since his arrest, he has been detained without charge and his health is deteriorating.
The IFJ said: "The IFJ strongly welcome the decision by the Supreme Court in Dhaka to release Shafik Rehman on bail. We, along with the international community, have strongly advocated for Rehman's release, given that charges have not being laid against him. We now call on the Bangladesh government to immediately withdraw the charges against Rehman and end the witch hunt against him."
Written By

IFJ Asia-Pacific
The IFJ represents more than 600,000 journalists in 140 countries.
For further information contact IFJ Asia-Pacific on +61 2 9333 0946
Find the IFJ on Twitter: @ifjasiapacific
Find the IFJ on Facebook: www.facebook.com/IFJAsiaPacific
Comments