Press Statement
Banned religious group threatens female journalists in Bangladesh
25 Oct, 2015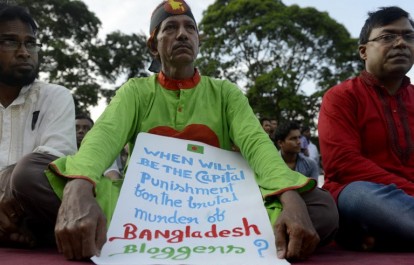 The International Federation of Journalists (IFJ) deplores the recent threat issued by the religious group, Ansarullah Bangla Team (ABT), against female journalists in Bangladesh. The IFJ calls on the Bangladeshi government to ensure the safety and security of the country's media, particularly women, and end the continued threats made against press freedom and freedom of expression.
According to the Dhaka Tribune, on October 19 ABT sent a letter to local media saying that all media outlets should "release their women from their jobs" claiming it is against Islamic law for women to work in the media. The letter also reiterated the threats made in a hit list issued by ABT last month, naming 15 bloggers and accusing them of participating in anti-Islam campaigns. Among the 15 bloggers named were, Niloy Neel, Washiqur Babu and Avijit Roy, who were killed earlier this year. The letter said those who follow these bloggers will meet a similar fate.  ABT is a recently-formed terrorist group in Bangladesh and is officially banned by the government. It has been linked to al Qaeda in the Indian subcontinent.
Since February this year, five secular bloggers have been brutally murdered in Bangladesh. In each instance those responsible have blamed the writings of their victims, calling them anti-Islamist. Arrests have been made in each of the murders, and members of the ABT including the acting leader and two associates were arrested for the murder of Md Oyasiqur Rahman Babu. Al Qaeda has publically praised the violent operations of ABT.
This is not the first time female journalists in Bangladesh have been targeted. In 2013, Nadia Sharmeen was covering protests by the political party, Hefajat-e-Islam in Dhaka, when she was attacked by activists. During the attack, which left her hospitalized, the activists told Sharmeen that it was not a woman's job to cover the rally. A number of other female journalists were also reportedly attacked covering the rally.
The IFJ said: "Women journalists face endless challenges undertaking their work in Bangladesh, these threats act to further jeopardize their safety in the industry.  Immediate and strong action needs to be taken by the government, media organisations, unions and the media community to guarantee the safety of women journalists. ABT continues to threaten and attack Bangladesh's media community and it needs to end now."
Photo: Activists in Bangladesh hold a protest against the killing of secular bloggers across the country. Credit: MUNIR UZ ZAMAN/AFP
Written By

IFJ Asia-Pacific
The IFJ represents more than 600,000 journalists in 140 countries.
For further information contact IFJ Asia-Pacific on +61 2 9333 0946
Find the IFJ on Twitter: @ifjasiapacific
Find the IFJ on Facebook: www.facebook.com/IFJAsiaPacific
Comments