Press Statement
PFUJ: BBC terminate journalists in Pakistan
25 Nov, 2019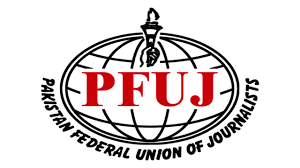 The Pakistan Federal Union of Journalists (PFUJ) has strongly condemned the termination of four BBC employees who were working in Islamabad and Peshawar and demanded to restore their jobs immediately.
President PFUJ GM Jamali and Secretary General Rana Muhammad Azeem have termed this termination unlawful and against the basic rights of working journalists in Pakistan.
They continued that Pakistani journalists were already facing a lot of problems including unlawful terminations and insecurity of jobs in the local and national media houses while this wave of termination from International media in Pakistan was of great concern. They demanded the BBC responsible in Islamabad to review their decision restore the jobs of the terminated journalists.
The BBC Pakistan has terminated its four employees without any reason and notices.
The PFUJ joins hands with its affiliate RIUJ to calls upon the relevant authorities to take cognizance of the arbitrary termination of jobs at BBC Pakistan.
Written By

Pakistan Federal Union of Journalists
Pakistan Federal Union of Journalists 8A Aboot Road, Lahore, Pakistan Phone: +92 321 4613322
Comments