Press Statement
Blogger hacked to death in Bangladesh
02 Mar, 2015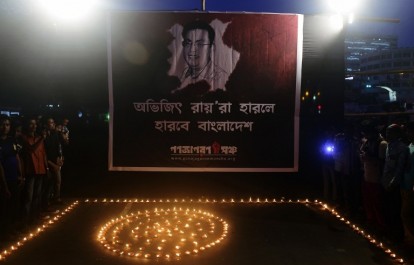 The International Federation of Journalists (IFJ) joins the Bangladesh Manobadhikar Sangbadik Forum (BMSF) in deploring the brutal murder of American-Bangladeshi blogger Avijit Roy in Dhaka on Thursday, February 26.
Dr Roy was the founder of Mukto-Mona (Free-mind) blog, a columnist of a Bangladesh news website and author of two books on liberal secularism. Dr Roy was hacked to death by two unidentified assailants and his wife, blogger  Rafida Ahmed Bonya, was also seriously injured in the attack. The pair were, who are based in the USA were visiting Bangladesh to participate in a book fair to release Dr Roy's new books.
According to reports, the couple was attacked near Dhaka University, as they returned from the book fair on a rickshaw. They were dragged from the rickshaw and bludgeoned with a machete. Dr Roy was declared dead upon his arrival at hospital.
Avijit Roy's writing and blogs had previously provoked the ire of fanatics in Bangladesh and he was regularly threatened.
Dr Roy is the second blogger to be brutally murdered in Bangladesh in a year, following the death of Ahmed Rajib Haider who died in similar circumstances in February last year.
Secular activists protested the murder marching through the streets of Dhaka holding torches. The following day a sit-in protest was also held in Dhaka condemning the murder.
The IFJ and the BMSF strongly condemn the brutal murder and demand a swift investigation to locate the killers and them to justice. The IFJ also expresses condolences to Roy's family and wishes for speedy recovery of his wife.
Jane Worthington, the IFJ Asia Pacific deputy director, said: "This brutal murder is a heinous attack on freedom of expression. The IFJ strongly urges the government of Bangladesh to put all powers into investigating those behind this attack."
The IFJ further added: "Press freedom attacks and a decline in safety for media workers in Bangladesh is a primary concern. The safety of bloggers across Bangladesh is declining at a worrying rate, with threats, murders and the displacement of many bloggers without any action from the government to stop these attacks. The failure of the government to act on previous attacks against media and bloggers has cultivated a climate of impunity that has enabled murderers to Dr Roy. The government must wear responsibility for this heinous murder."
Written By

IFJ Asia-Pacific
The IFJ represents more than 600,000 journalists in 140 countries.
For further information contact IFJ Asia-Pacific on +61 2 9333 0946
Find the IFJ on Twitter: @ifjasiapacific
Find the IFJ on Facebook: www.facebook.com/IFJAsiaPacific
Comments