#endimpunity
2017 IFJ Campaign to End Impunity for Crimes Against Journalists
Mustafa, 10, son of Afghan reporter Zabihullah Tamanna, is comforted during a funeral ceremony in Kabul. Tamanna, 38, was killed along with American report David Gilkey in a Taliban ambush in southern Helmand province. Tamanna was one of 13 media workers killed in Afghanistan in 2016. Credit: AFP/Shah Marai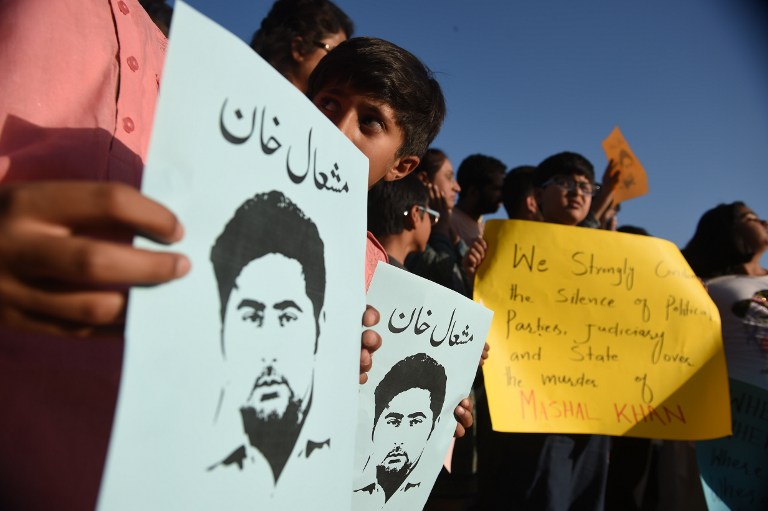 A gathering tide of protest against the brutal killing of journalism student Mashal Khan in Mardon in Khyber Patkhtunkhwa province of Pakistan on baseless accusations of blasphemy. Credit: AFP/Farooq Naemm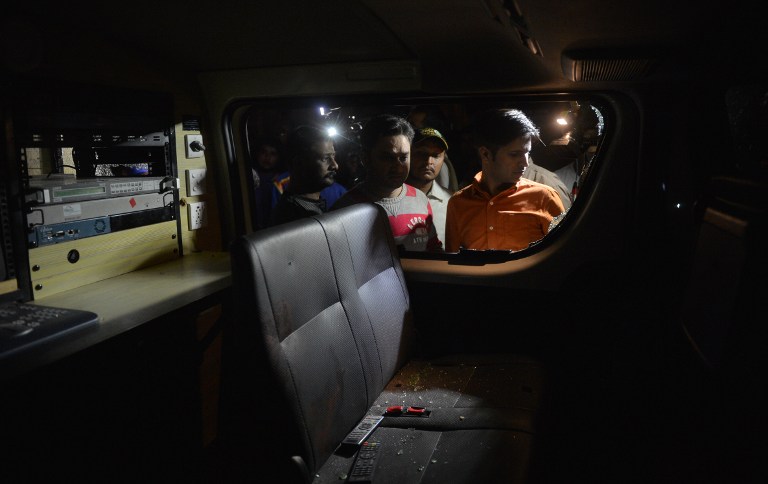 Members of the public peer into a damaged TV news channel van after an assault in Karachi on February 12, 2017. Gunmenshot dead Taimoor Abbas, an employee for Samaa TV news channel shortly after launching a grenade attack on a police vehicle. Credit: AFP/Rizwan Tabassum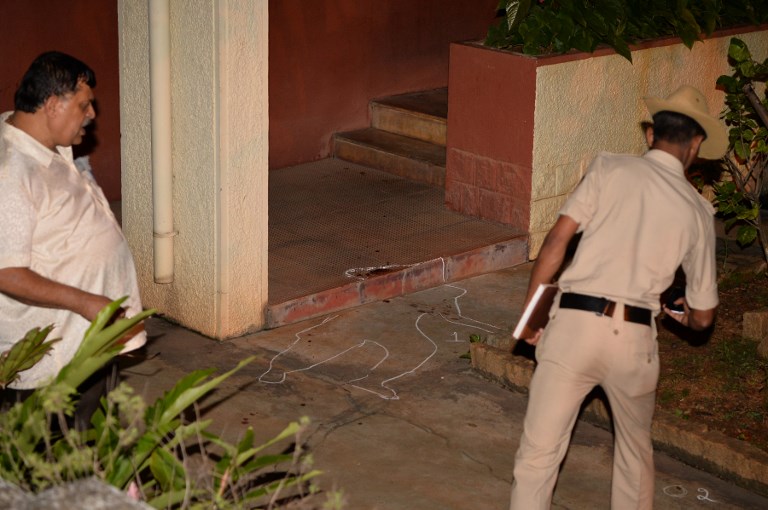 Police outside the house of Indian journalist, Gauri Lankesh. Lankesh was killed outside her home, as she arrived back from work. Credit: AFP/Manjunath Kiran
Impunity is when threats, attacks and crimes against journalists go unpunished. It results in a high level of fear, intimidation, censorship and self-censorship that undermines press freedom, the public right to know and leaves victims and their relatives powerless.
According to IFJ statistics, 56 journalists have lost their lives while carrying out their duties since the beginning of the year. Today only one out of 10 killings of journalists is investigated. The situation for non-fatal attacks on journalists is even worse. Governments fail in their duty to hunt down the harassers, the attackers, the killers of media workers. Impunity not only endangers journalists, it imperils democracy and compromises hopes for peace and development. Legal guarantees exist for the protection of journalists as civilians which states are duty bound to enforce under domestic and international law (read more below).
Our #endimpunity campaign 2017 aims at holding governments and de facto governments accountable for their impunity records and denouncing any crimes targeting journalists that remain unpunished. Murder is the highest form of these crimes but all attacks targeting journalists that remain unpunished must be denounced.
While we are targeting all governments and de facto governments that have failed to investigate those crimes we are putting a specific emphasis on seven countries: Afghanistan, Pakistan, Mexico, Iraq, Yemen, Somalia and Ukraine.
The high level of impunity in Afghanistan causes an increasing number of threats and violence against journalists. The IFJ registered 48 journalists killed in the last ten years, including six deaths in 2017. The harassment of media workers comes from authorities and government officials. There is no prosecution of those who assault journalists for their critical reporting. The threats and insults from the police officers in provinces endangers trust in a fair and independent investigation as well as discouraging journalists from reporting violations against them.
Pakistan has long been among the most dangerous countries in the world for journalists, with 94 journalists and media workers having lost their lives since 2007. This represents almost one journalist killed every month. The armed insurgency and sectarian violence account for a number of these killings but many of them raise suspicions of the involvement of the state's institutions.
There can be no press freedom where journalists work in fear.
Join the campaign now, show your solidarity and support by endorsing our activities scheduled this year!
GET INVOLVED: WHAT YOU CAN DO
- Get informed! Like our Facebook page and follow us on twitter @ifjasiapacific or follow #endimpunity to be kept informed about the campaign
- Download the campaign poster here to use it during the campaign in your electronic signature, on your twitter account, your facebook page or your website. Encourage all your members and their friends to download it, take pictures holding it and share them on Facebook, post them on Twitter with a brief message to the President or Prime Minister of your country urging them to take a public stand against impunity for crimes targeting journalists. Use #endimpunity hashtag.
- Send letters to your own government or to the government of targeted countries holding them accountable for their impunity records. Organise a visit to their embassies in your country to deliver the letter, take photographs and disseminate them widely using #endimpunity. 
- Contact your newsroom about publishing /broadcasting stories about impunity on 2 November
- Make a short video. If you know a colleague or a family member of a killed journalist in your country, we urge you to talk to them and ask them to make a two-minute video message about the need to secure justice for their loved ones which we can post on the IFJ website and share in our social networks. Send them to ifj@ifj-asia.org